I helgen kjøres en ny runde av RallyX Nordic, denne gang på Nysund i Danmark. I tillegg til SuperCar og SuperCar Lites kjøres det i helgen også NEZ-mesterskap i TouringCar med norske favoritter på startstreken.
I SuperCar-klassen er det norsk/svenske Oliver Solberg som leder med 75 poeng. Han er tett fulgt av en annen norsk/svensk fører, Thomas Bryntesson, med 71 poeng. Ola Frøshaug ligger på en 5. plass.
I SuperCar Lites er Ben-Philip Gundersen best av de norske med andreplass. Han er imidlertid 32 poeng bak lederen, Guillame De Ridder. Sondre Evjen er på fjerdeplass og Petter Leirhol på 8. plass.
OGså TouringCar er med på danske Nysund, og her stiller blant andre Sivert Svardal, Jan Emil Wilsberg og unge Ole Henry Steinsholt for å forsvare de norske farger.
PRESSEMELDING fra RallyX Nordic:
Nysum kicks off the second-half of 2018 RallyX Nordic presented by Cooper Tires
Oliver Solberg leads Supercar class as Ulrik Linnemann makes home appearance
Guillaume De Ridder eyes fourth straight Lites win; Super Touring RXN class boosts line up
RallyX Nordic presented by Cooper Tires returns from the summer break this weekend (11-12 August) with its annual visit to Denmark and the Nysumbanen rallycross track, which kicks off the second-half of the 2018 season.
Heralding the fourth round of this year's championship, Nysum has become a firm favourite amongst fans and drivers on the RallyX Nordic schedule. Typified by its fast-flowing layout spread over a length of 1160m, Nysum is notably the series' only venue to feature a 'figure of eight' configuration with its bridge doubling up as the spectacular jump.
Oliver Solberg arrives in Denmark as the RallyX Nordic series leader following his second win of the season in Grenland, a result that lifted him ahead of Thomas Bryntesson into the lead of the championship for the first time in his career.
Having stayed 'match fit' during the summer break with a number of motor sport outings across Scandinavia, Solberg will now attempt to build on his dominant performance in Norway after achieving the first perfect scorecard of his career.
As ever though, he faces stiff opposition from Bryntesson, who himself enjoyed a confidence-boosting run to the podium in the FIA European Rallycross Championship at Holjes during the break. Assuming the role of title chaser for the first time this weekend – four points behind Solberg – Bryntesson will be keen to call upon the form that took him to a dominant win at Nysum with JC Raceteknik in 2017.
Eyeing his first RallyX Nordic win of the season, Oliver Eriksson is another driver arriving in Denmark on a high after extending his RX2 International Series lead in Canada last weekend. The Swede also achieved his first RallyX Nordic podium of 2018 last time out in Grenland to lift himself to third in the overall standings and will be keen to go one better on this occasion
Similarly, Peter Hedstrom has set his sights on the top of the rostrum having shown front-running pace in the opening half of the season. However, after failing to finish any of the three finals he has started this year, Hedstrom remains a significant threat with the benefit of a clean weekend.
Furthermore, this weekend will see the competition level raised with the return of Arvika podium winner Philip Gehrman, who re-joins the ranks in his Eklund Motorsport Volkswagen Beetle, while the homegrown Danish ranks are swelled by the addition of Ulrik Linnemann in his Volkjswagen Polo and Dennis Romer in a Peugeot 208.
A familiar front-runner on the European Rallycross stage, Linnemann is currently riding high in fifth overall on the continent, while this weekend's event sees him reunited on the track with a number of drivers that dovetail RallyX Nordic with Euro RX. Though this will be his RallyX Nordic debut, Linnemann will attempt to use the benefit of local knowledge at Nysum to upset the regulars whilst delighting the home supporters.
Elsewhere, this weekend's RallyX Nordic event in Nysum will see the inaugural outing for the new Super Touring RXN category. Based on the TouringCar class that competes on the Euro RX stage, Super Touring RXN makes its debut as part of a broader view to it becoming a permanent fixture on the 2019 schedule.
QUOTES
Ulrik Linnemann: «I'm very pleased to drive this RallyX Nordic event on my own home circuit in Nysum. I also look forward to introducing the VW Polo 6R RX Supercar to my many faithful fans in Denmark. The battle for the finals in Euro RX is very close and tough, but it is especially spectacular for the spectators as we fight for glory. In Euro RX I am competing with Thomas Bryntesson and Peter Hedström, and I have already found good speed in my rookie season. My goal for RallyX Nordic at Nysum is the final and maybe the podium.»
RallyX Nordic Series Manager Ian Davies, commented: «We return to racing feeling refreshed and ready to see what the second-half of what has been an enthralling season has to offer. There is certainly plenty at stake in this critical phase of the title battle, but it isn't in a rallycross driver's nature to do anything but aim for victory so I expect the racing will once more be a thrilling spectacle for the faithful Danish fans. I am particularly excited to see the Super Touring RXN class on track for the first time with a view to it becoming a regular feature of the RallyX Nordic schedule. Finally, I'd like to welcome Cooper Tires as official title sponsor of the championship. As a brand synonymous with motorsport at the highest levels, their commitment represents a huge validation for RallyX Nordic as a quality proving ground for rallycross competitors.»
Supercar Entry List – RallyX Nordic // Round 4 // Nysum
| | | | |
| --- | --- | --- | --- |
| 1 | Thomas Bryntesson | JC RACETEKNIK | Ford Fiesta |
| 8 | Peter Hedstrom | Hedstroms Motorsport | Volkswagen Polo |
| 11 | Oliver Solberg | OSRX | Citroen DS3 |
| 16 | Oliver Eriksson | Olsbergs MSE | Ford Fiesta |
| 17 | Mats Ohman | Ohman Motorsport | Ford Fiesta |
| 27 | Dennis Romer | Dennis Romer | Peugeot 208 |
| 30 | Ole Kristian Temte | Ole Kristian Temte Norwegian RX Team | Citroen C4 |
| 61 | Andreas Carlsson | ACRX Andreas Carlsson RallyCross | Renault Clio |
| 72 | Ulrik Linnemann | Ulrik Linnemann | Volkswagen Polo |
| 76 | Philip Gehrman | Eklund Motorsport | Volkswagen Beetle |
| 77 | Stene Johansen | Stene Johansen Motorsport | Renault Clio |
| 88 | Daniel Thoren | Hedstroms Motorsport | Volkswagen Polo |
| 91 | Ola Froshaug | JC RACETEKNIK | Ford Fiesta |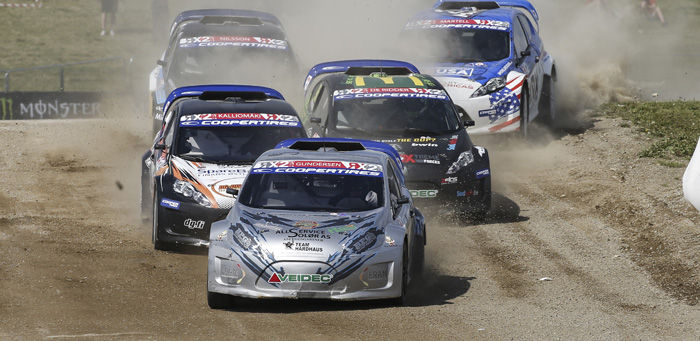 Supercar Lites
Guillaume De Ridder remains the man to beat in the Supercar Lites category after notching up a third consecutive victory last time out in Grenland. The Olsbergs MSE driver, who is embroiled in a thrilling title battle with RallyX Nordic Supercar driver Oliver Eriksson in the RX2 International Series, will look to further his advantage in Nysum against another ultra-competitive field. Ben-Philip Gundersen heads up the challenge in second overall, ahead of defending champion William Nilsson and Sondre Evjen.
Supercar Lites Entry List // Round 4 // Nysum
| | | |
| --- | --- | --- |
| 2 | Ben Philip Gundersen | JC RACETEKNIK |
| 6 | William Nilsson | JC RACETEKNIK |
| 17 | Hampus Radstrom | Radstrom Motorsport |
| 21 | Marcus Hoglund | JC RACETEKNIK |
| 27 | Petter Leirhol | Leirhol Motorsport |
| 52 | Simon Olofsson | STS RX |
| 55 | Vasiliy Gryazin | Sports Racing Technologies |
| 66 | Santosh Berggren | A Berggrens Bilservice I Floby |
| 69 | Sondre Evjen | JC RACETEKNIK |
| 90 | Jimmie Walfridson | JC RACETEKNIK |
| 91 | Jonathan Walfridsson | JC RACETEKNIK |
| 96 | Guillaume De Ridder | Olsbergs MSE |
| 98 | Stein Frederic Akre | Team Trysil |
Super Touring RXN
New to RallyX Nordic in Nysum is the inclusion of the Super Touring RXN class. Based on the TouringCar category that supports the FIA European Rallycross Championship, Super Touring RXN joins the schedule in a special outing this weekend with a long-term view to the class becoming a regular feature on the RallyX Nordic calendar from 2019 onwards. Heading up the eye-catching entry list is  Sivert Svardal,  Jan Emil Wilsberg, Daniel Lundh and Tobias Daabak.
Super Touring RXN Entry List // Round 4 // Nysum
| | |
| --- | --- |
| 5 | Per Magne Royras |
| 8 | Jan Emi Wilsberg |
| 9 | Sivert Svardal |
| 19 | Daniel Lundh |
| 22 | Veronica Salsten |
| 40 | Sebastian Hoidalen |
| 83 | Soren Hedlund |
| 88 | Ole Henry Steinsholt |
| 93 | Tobias Daarbak |
| 94 | Ole Morten Tangen |
Schedule – RallyX Nordic // Round 4 // Nysum
Saturday
1700
Free Practice (1)
Sunday
0900
Free Practice (2)
1015
Qualifying Race 1 (Q1)
1330
Qualifying Race 2 (Q2)
followed by…
Qualifying Race 3 (Q3)
Semi-Finals
Finals
*Order: Super Touring RXN, Supercar Lites and Supercars
TV Coverage
Sweden – C More & Sportskanalen LIVE
Norway – TV2 Sportskanalen & TV2 Sumo LIVE
Broadcasting gets underway at 1330
Standings
Full standings of 2018 RallyX Nordic can be found HERE