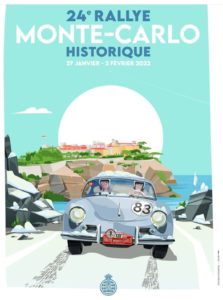 Ingen start i Oslo i år, men 11 norske lag er på vei til Monaco som deltagere i årets Rallye Monte Carlo Historique.
Til tross for at det ikke har vært start fra Oslo i år, så er den norske interessen for dette løpet som kjøres for 24. gang i år stor. Opprinnelig var det 22 norske lag som meldte seg på i løpet, men på grunn av usikkerhet og utfordringer rundt Covid og grensepasseringer, valgte halvparten å hoppe av. I fjor ble hele løpet avlyst på grunn av Covid. Siste start i Oslo var i 2018.
De fleste norske har startet fra Bad Homburg, men også noen fra Reims og Milano.
Totalt er det 263 deltagere i løpet, og deltagerne vil møtes i Monaco lørdag morgen, der de tar fatt på etappene som sist helg ble brukt til VM-løpet Rally Monte Carlo. 17 regularity-etapper skal de gjennom før målgang natt til onsdag 2. februar. Så er det den 18. og kanskje viktigste etappen for mange, stor premiegalla i Sporting Club i Monaco onsdag kveld.
Norske deltagere
Valter Chr Jensen/Erik Pedersen, Porsche 911 SC, 1978
12.Petter Granerud/Marianne Lie, Volvo 242, 1975
119.Lars Lie/Henning Jørstad, Ford Escort RS2000, 1977
121. Egil Nicolaysen/Stein Røed, Porsche 911 SC, 1979
124. Tom Hotvedt/Leif Arne Neset, Porsche 911 S, 1976
169. Monty Karlan/Oddvar Moland, Opel Ascona B 2000, 1976
200. Tore Johannessen/Ole Andresen, Porsche 911 SC, 1979
204. Anders Bjerke/Erik Heiberg, VW Golf GTI, 1982
264. Ivar Aage Moe/Bjarne S. Koren, Austin A40 Farina, 1961
281. Terje Baardseth/Otto Backe, Glas 1300 GT, 1967
292. Ole Einar Kristiansen/Ronny Sjølset, Volvo 122S, 1965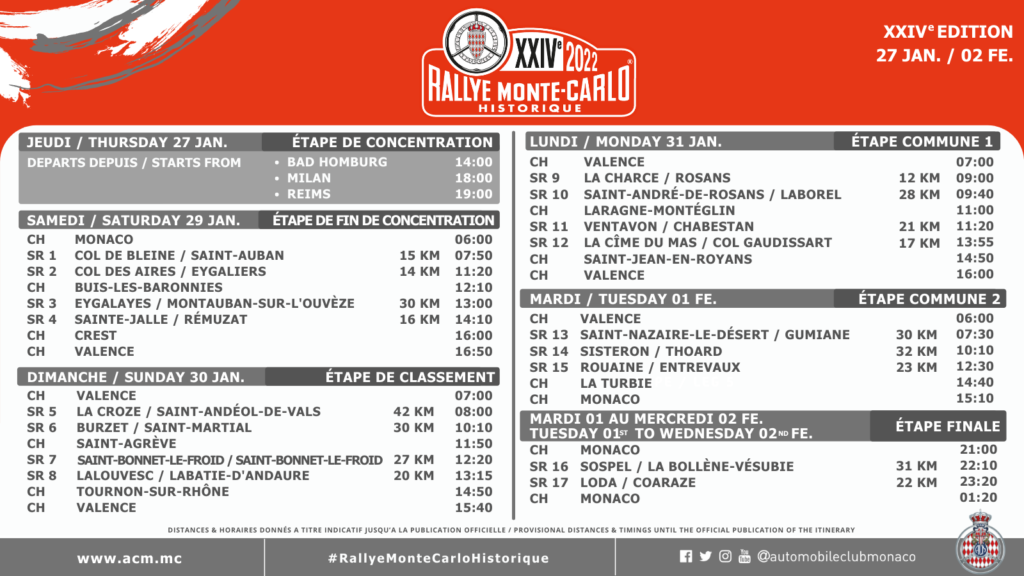 Litt engelsk informasjon om løpet:
The End of Concentration Leg is scheduled for Saturday January 29 between Monaco (1st crew starting at 6:00am) and Valence, the Drôme Prefecture and again the Host City. With four Regularity Stages (SRs) on the menu, this first real racing day will be tough to manage and probably exhausting. The appetizer will be
a short version of «Col de Bleine – Saint Auban / SR1 / 07:50am / 15,39km» before a new stage «Col des Aires – Eygaliers / SR2 / 11:20am / 13,99km» at the foot of famous Mont-Ventoux. Then crews will then head for Buis-les-Baronnies (12:10pm) where a mid-day checkpoint will be organized for all of them on Parking des Platanes. In order to go back to Valence, the next stage will be «Eygalayes – Montauban-sur- l'Ouvèze / SR3 / 1:00pm / 30,25km» through two famous passes, Col Saint-Jean and Col de Perty via Laborel, followed by «Sainte-Jalle – Rémuzat / SR4 / 2:10pm / 16,58km» through Col de Soubeyrand, to close this chapter of the concentration in style. The last checkpoint will be set in Crest at 4:00pm, in order to regulate the flow of crews expected on Champ de Mars in Valence from 4:50pm onwards.
The next day is set in Ardèche, on Sunday January 30, with a start at 7:00am for the Classification Leg and, to start the morning, «La Croze – Saint-Andéol-de-Vals / SR5 / 8:00am / 42,83km» followed by the traditional pause in Antraigues-sur-Volane, in front of the famous « Remise » where the Jouanny family will serve its renowned apple-pie to all crews. This will be a good way to prepare for another legendary stage, «Burzet – Saint-Martial / SR6 / 10:10am / 30,71km» via the Ray-Pic Cascade and Lachamp-Raphaël. The mid-day pause is scheduled for 11:50am on Place du Marché in Saint-Agrève, where local products will be appreciated by all participants before starting a tough loop made of «Saint-Bonnet-le-Froid / SR7 / 12:20pm / 27,28km» and « Lalouvesc – Labatie-d'Andaure / SR8 / 1:15pm / 19,96km». Then back to Valence (3:40pm) without forgetting to stop, from 2:50pm onwards, at Quai Farconnet in Tournon-sur-Rhône for a set of friendly ritual rallying activities of all sorts.
On Monday January 31, starting at 7:00am the 1st part of the Common Leg will be set in Baronnies
provençales Regional Park, starting with «La Charce – Rosans / SR9 / 9:00am / 12,65km» via Col de
Pommerol, and following suit with « Saint-André-de-Rosans – Laborel / SR10 / 9:40am / 28,04km». The mid-day pause will take place in Laragne-Montéglin, supervised by the Auto-Sport du Laragnais motor racing club from 11:00am. A few minutes to take a breath and appreciate a few local delicacies will be crucial before starting « Ventavon – Chabestan / SR11 / 11:20am / 21,22km» through the very demanding Col de Faye and a downhill portion towards Savournon. Last but not least, to finish this gruelling day, crews will head for the Vercors hills and « La Cîme du Mas – Col de Gaudissart / SR12 / 1:55pm / 17,48km» via Col de l'Écharasson as a justice of peace! The last halt before returning to Valence (4:00pm) will happen on Place du Champ de Mars in Saint-Jean-en-Royans where the last checkpoint of the day is scheduled
from 2:50pm onwards.
On Tuesday February 1, the start from Valence is scheduled for 6:00am before heading for the Diois hills.
This 2nd part of the Common Leg will start with a monumental stage, «Saint-Nazaire-le-Désert – Gumiane/ SR13 / 7:30am / 30,04km» and no less than four passes on the way: Col des Guillens / Col du Portail / Col de Vache / Col des Roustans followed by a very tough downhill portion called « Route de Tremouret » towards the finish line of this stage. The next one will be «Sisteron – Thoard / SR14 / 10:10am / 32,77km» via Authon and the scary pass of Col de Fontbelle, followed by «Rouaine – Entrevaux / SR15 / 12:30pm / 23,52km» through Val de Chalvagne and Col de Félines. The last checkpoint before entering Parc fermé in Monaco (3:10pm) will happen on Place Neuve in La Turbie, from 2:40pm onwards.
The start for the Final Leg is scheduled in the night of Tuesday 1 to Wednesday February 2 in Monaco from 9:00pm onwards. On the menu of this last night, «Sospel – La-Bollène-Vésubie / SR16 / 10:00pm / 30,96km» via famous Col de Turini will be followed by «Loda – Coaraze / SR17 / 11:10pm / 22,43km» through Col de Porte and Col Saint-Roch. The winning crew is expected around 1:10am on Port Hercule in Monaco.
Last but not least, in order to respect tradition, the Prize Ceremony and Gala Night will happen on the evening of Wednesday February 2 in the Salle des Etoiles at Monte-Carlo Sporting Club (Dress code: dark suit, evening dress).