Oliver Solberg has been crowned the 2018 RallyX Nordic presented by Cooper Tires Supercar Champion after resisting the pressure of his title rivals to prevail in fine winning style at the Tierp Arena.

In front of 7,700 spectators, Solberg recovered from seeing his championship advantage whittled down to four points by Oliver Eriksson coming into the all-important final to power to a critical third victory of the season as his title rivals floundered.

Solberg, Eriksson and Thomas Bryntesson had come to the Tierp Arena each with an opportunity to leave with the RallyX Nordic trophy and the challenge of the all-new Swedish venue proved a successful leveller as the trio fought for supremacy over the an eventful weekend of rallycross action.

Each title contender picked up a qualifying race victory apiece but Bryntesson topped the Intermediate Classfication after staying largely out of trouble, unlike Solberg who suffered a puncture in Q2 and suspension damage in Q3 on his OSRX Citroen DS3 to leave him only fifth at the midway stage. With Eriksson second on the classification, despite a DNF in Q3 following contact off the start, both the Swede and Bryntesson reduced Solberg's advantage to three and eight points respectively.

Come the semi-finals though and it was JC Raceteknik's Bryntesson's turn to face misfortune when a puncture forced him out of both race and title contention, in turn promoting Solberg into a lead he'd retain to the chequered flag. When Eriksson could only manage second in the semi-final that followed after suffering his own technical issues, Solberg's margin was reinstated to four points.

Starting the final from the front row, Solberg got the start he needed before surviving the jostling into the turn two hairpin to secure the lead.

Eriksson's title challenge came to an end just seconds later when his attempts to get in front of Andreas Carlsson resulted in contact that forced him into the barrier at turn four. Despite his valiant efforts to get going again, Eriksson was forced to park up soon after to officially concede defeat in the title battle.

Passing the stricken Olsbergs MSE Ford Fiesta on track, 17-year-old Solberg – son of two-time World Rallycross Champion, Petter – knew the championship was decided regardless of the result but he'd keep it neat and tidy nonetheless to take the chequered flag as a winner for the third time this season and, most importantly, as the new RallyX Nordic presented by Cooper Tires Champion.

Robin Larsson marked his return to RallyX Nordic competition by avoiding drama to claim second position in his Audi A1, while Philip Gehrman secured a third podium in four starts in his Eklund Motorsport Volkswagen Beetle. Damaged from his incident with Eriksson, Carlsson nonetheless managed an equal-best finish of fourth place in his Renault Clio.

Elsewhere, Nysum winner Ulrik Linnemann showed impressive pace driving the Olsbergs MSE Honda Civic – which was making its European competition debut – but broken suspension in the semi-finals halted his progress, much like Lukas Walfridson (Helmia Motorsport), Ola Froshaug (JC Raceteknik) and Peter Hedstrom (Hedstroms Motorsport) whose respective day's came to a halt ahead of the final. Meanwhile, Hedstrom's team-mate Daniel Thoren walked away unharmed from a sizeable semi-final crash that left his VW Polo heavily damaged.

In the final overall standings, Solberg wins the title having accumulated 148 points courtesy of three wins and a total of four podiums and status of having reached the final in each event. It leaves him 11 and 16 points ahead of Eriksson and outgoing champion Bryntesson, who nonetheless end the year with a win apiece at Kouvola and Holjes respectively.

Norway's Froshaug follows his team-mate in fourth overall, ahead of Hedstrom in fifth place and Carlsson, whose strong end to his debut season yields a top six result overall.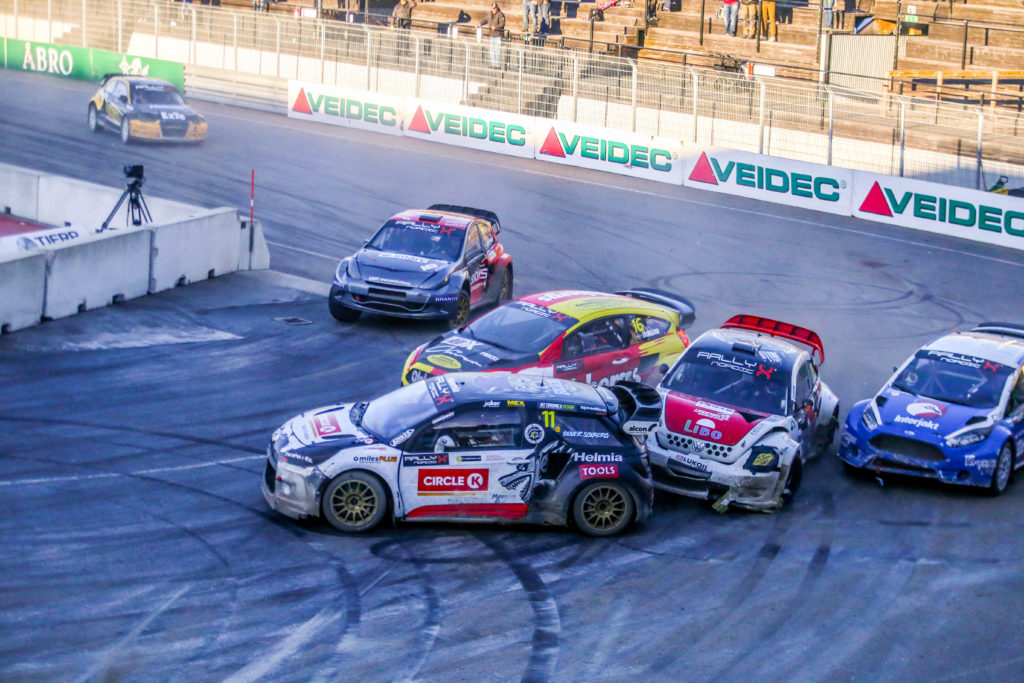 QUOTES
Oliver Solberg, RallyX Nordic presented by Cooper Tires Supercar Champion: «Amazing, what a day! I pushed really hard to take the win in Q1 but then in Q2 I had a puncture and in Q3 the rear-wheel came off, so I lost three points to Eriksson and I thought 'now it is going to be tight'. However, when he came second in his semi-final I felt a bit more relaxed. In the final I had the perfect launch and I braked into the hairpin with the lead, but I was hit from behind. I was trying really hard to hold the car so I pulled the handbrake, found second gear, full drift and just powered out of the corner still in the lead. I don't know how I did it but it worked! It is incredible to win this title. Three wins from six events is fantastic, it has been an amazing season. Thank you the entire team for all of their hard work, I wouldn't be here without them!"
Ian Davies, RallyX Nordic presented by Cooper Tires Series Director, commented. «An exciting way to conclude a great season of RallyX Nordic competition. First and foremost, huge congratulations to the title winners across all classes crowned at the Tierp Arena today. Oliver Solberg has driven outstandingly throughout the season and fully deserves to lift the championship trophy, while Guillaume De Ridder has really come of age this season in what was a high quality Supercar Lites field. Better still, we are delighted to see a big crowd turn out to the Tierp Arena for the first time to watch rallycross action at its best. It's been a landmark season for RallyX Nordic and this memorable finale lays an excellent foundation as we prepare for bigger and even better in 2019."
Sarah McRoberts, PR & Events Manager for Cooper Tire Europe, said: "Many congratulations to this year's worthy Supercar and Supercar Lites champions, we are delighted to be part of RallyX Nordic presented by Cooper Tires. Next season's expanded calendar, featuring seven rounds across five countries, will provide the perfect platform for yet more talented young rallycross stars to prove they have got what it takes to progress in their careers towards the FIA World Rallycross Championship – where all drivers also compete on Cooper tyres.»
RallyX Nordic Results // Round 6 // Tierp Arena, Sweden
| | | | | |
| --- | --- | --- | --- | --- |
| 1 | Oliver Solberg | OSRX | Citroen DS3 | 5 laps |
| 2 | Robin Larsson | Robin Larsson | Audi A1 | +11.702s |
| 3 | Philip Gehrman | Eklund Motorsport | Volkswagen Beetle | +48.591s |
| 4 | Andreas Carlsson | AC RX | Renault Clio | +1 lap |
| 5 | Thomas Bryntesson | JC Raceteknik | Ford Fiesta | +4 laps |
| 6 | Oliver Eriksson | Olsbergs MSE | Ford Fiesta | +5 laps |
Full RallyX Nordic Supercar Results from Tierp Arena – HERE
FINAL 2018 RallyX Nordic Supercar Championship Standings – HERE
Supercar Lites
Guillaume De Ridder clinched the 2018 RallyX Nordic presented by Cooper Tires Supercar Lites title after accumulating the points he needed to defeat sole rival Ben-Philip Gundersen before the final.
Starting the weekend with a 17 point advantage over Gundersen, De Ridder's third place finish in the Intermediate Classification, ahead of the Norwegian, gave him an insurmountable advantage with the semi-final and the final still to run.
In the final, Marcus Hoglund picked up a superb Tierp Arena win after keeping his nose clean to defeat Guillaume De Ridder and Jimmie Walfridson.
Reinis Nitiss and Nathan Heathcote scored a run at the final on their RallyX Nordic debuts, bringing home fourth and fifth place results, ahead of the out of luck Kevin Eriksson who – having been top qualifier – was on course for a podium only for technical problems to force him out just metres from the chequered flag.
Guillaume De Ridder, 2018 RallyX Nordic presented by Cooper Tires Supercar Lites Champion: "I am feeling very good right now! I can finally relax and enjoy this moment. It was good the title was decided before the semi-final and final, it allowed me to get my head down and just concentrate on the win. I was playing safe to bring the title home, which wasn't easy, but we made it. This RallyX Nordic Supercar Lites win is my first international title so it means a lot to me. I have been a bit unlucky in big events in the past so I have never had the chance to celebrate like this. All the hard work has finally paid off… fantastique!"
Full RallyX Nordic Supercar Lites Results from Tierp Arena – HERE
FINAL 2018 RallyX Nordic Supercar Lites Championship Standings – HERE
RX Academy and SRX
RX Academy and the Speedcar RX (SRX) series' made it four champions to be determined at the Tierp Arena in a thrilling finale for both.
Sami-Matti Trogen protected his pre-event advantage to see off a competitive field of Renault Clio racers, the hotly-topped Finn clinging on to hold off Poland's Oskar Leitgeber and Estonia's Marko Muru.
In SRX, Nils Andersson was crowned champion over Isac Egonsson and Jimmie Osterberg following a season of thrills and spills for the popular Speedcar series.
The 2019 RallyX Nordic presented by Cooper Tires returns on 18-19 May at Holjes for the start of another season. Full calendar HERE