Dennis Hauger er klar for fjerde runde og to nye viktige løp i FIA Formula 3-mesterskapet til helgen.
Denne gangen er det britiske Silverstone som er arena for både Formel 1 og Formel 3. Etter gode løp i Ungarn for to uker siden, der Dennis tok sin første pallplassering i F3, er han klar for viktig poengjakt til helgen.
Dennis ligger på en 12.plass sammenlagt med sine 14 poeng etter at tre runder og seks løp er unnagjort.
Det er Oscar Piastri fra Australia som leder mesterskapet med 76 poeng. Nærmest følger hans teamkollega i Prema, Logan Sargeant fra USA med 50 poeng. På en tredjeplass ligger Theo Pourchaire fra Frankrike med 48 poeng. Franskmannen vant det tyske F4-mesterskapet med knappest mulig margin til Dennis i fjor.
Viasat Sport og Viaplay viser F3 direkte. Kvalifiseringen kjøres fredag kl. 15.10. Første løp på lørdag kl. 10.20 og andre løp søndag kl. 09.40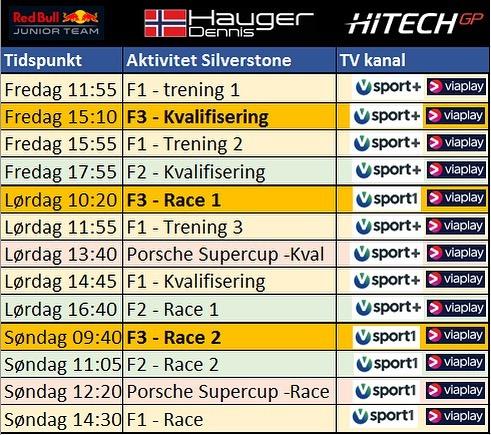 Pressemelding fra Red Bull Jr Team:
Tetra Tauri to Silverstone for FIA F3
#5 Liam Lawson (NZL – Hitech Mecachrome Dallara)
FIA F3 Championship position: 8th – 25 points – after 6 races
#6 Dennis Hauger (NOR – Hitech Mecachrome Dallara)
FIA F3 Championship position: 12th – 14 points – after 6 races
#24 Igor Fraga (BRA – Charouz Mecachrome Dallara)
FIA F3 Championship position: 22nd – 0 points – after 6 races
#16 Jack Doohan (AUS – HWA Mecachrome Dallara)
FIA F3 Championship position: 25th – 0 points – after 6 races
The four Red Bull Juniors arrive at the British Grand Prix venue following vastly different weekends at the Hungarian Grand Prix. Clearly, Dennis Hauger, the 17-year-old Norwegian, is on a roll after two fast paced races at the Hungaroring culminated in his first trip to the podium in the FIA F3 series.
Fellow Hitech driver Liam Lawson's Hungaroring experience shared little with Hauger's, except for potential race winning pace, as the 18-year-old New Zealander left with no points through no fault of his own.
Plenty of pace too from Jack Doohan and Igor Fraga but they also need a change in fortune for the results to come.
Hauger has the momentum
"We left Hungary with plenty of positives to carry into Silverstone," explains Hauger. "The pace was there, it was great to lead Race 2 and from the start the pace was mega. It went away as the laps added up and the tyres went away but I think we should be right there at the British Grand Prix."
"I've just done the full circuit once, when I was a guest driver in Euroformula last year. That was the only F3 race I did, so I have a bit of experience from that. I would say it will be different with the FIA F3 car but at least I know something. I am looking forward to race there, it is of course the team's home track I would say and I am expecting a good weekend."
Lawson ready for a new start
"We just have to leave what happened in the Hungarian races behind," stated Lawson. "At the end of the day I can just be happy that I did everything that I could in both races and the technical problems are outside of my control."
"We know that there are things that we do control that we have to improve. We have to do a better job of Qualifying, we have to do that as a team. We need to get the tyre turned on so that I can get the lap time in and I have to absolutely deliver."
"It's going to be cool to have two weekends, 4 races, at Silverstone. That's kind of our home track, my home away from home," stated the Kiwi who already has a 2020 win from Race 2 in the opening round at the Red Bull Ring.
Doohan will start a roll
"I think that we now have a good car both for the wet and the dry," states 17-year-old Australian Doohan. "We are three rounds in and obviously I would have liked to have started with that a bit earlier in the championship. But at least I hope that we can start our roll, going into the next triple header at Silverstone and be fighting for the top spot. I genuinely think that we have the pace to win."
"I was at Silverstone in British F4 but not the Grand Prix circuit. Still I've got 45 minutes to learn it so it should be OK," concludes the HWA driver with a chuckle.
Fraga up for the challenge
"I have never been there before but the team were good last year in Silverstone," states the Charouz driver referring to their 8th and 9th in Race 2. "I think I will enjoy it, I will keep the concentration on and as always try to do my best."
"On the sim I like both Silverstone and Spa, the next tracks. I have never driven them in real life but I have done a lot of time at both on the sim so I am very much looking forward to visiting those tracks. Of course I very much understand the difference between sim experience and real life experience," the 21-year-old Brazilian points out.
Silverstone weekend schedule – all times BST (CEST -1)
Friday 31st July
09:35 – Practice (45 minutes)
14:05 – Qualifying (30 minutes)
Saturday 1st August
09:25 – Race 1 (20 laps)
Sunday 2nd August
08:45 – Race 2 (20 laps)
More information on the Junior Team website
http://www.redbulljuniorteam.com