Henrik Krogstad er klar for rallycross-satsing for teamet #YellowSquad i årets sesong. Det betyr blant annet at han blir å finne på strastreken i den norske EM- og VM-runden på Lånkebanen i juni.
PRESSEMELDING FRA #YELLOWSQUAD
Highly rated Norwegian rallycross talent Henrik Krogstad will compete for #YellowSquad in the 2020 RX2 International Series, joining Dan Skocdopole in the team's line-up.
#YellowSquad – a collaboration between FIA World Rallycross champions Hansen Motorsport and experienced RX2 outfit Team Färén – will field Krogstad in all seven rounds of the RX2 Series, which begins on 18/19 April at the Circuit de Barcelona-Catalunya in Spain.
Krogstad has already established himself as one of the most talented young drivers in rallycross. He scored third place in the overall RX2 standings in 2018 – his debut season after a one-off appearance at his home race in Hell two years earlier – only finishing behind future World RX driver Guillaume De Ridder and double RX2 champion Oliver Eriksson.
That debut performance in Hell had already marked out his credentials as a driver to watch in the future, reaching the Final and finishing fourth in his first ever rallycross event. But having won Norway's 'Auto Sport Talent' contest a year earlier, his speed was never in doubt.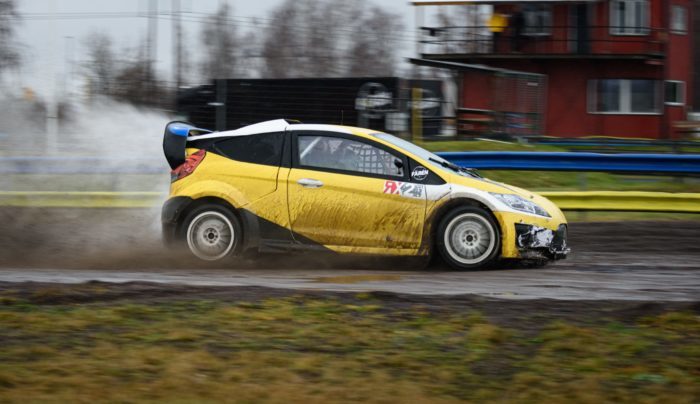 Krogstad has now entrusted #YellowSquad to develop his talents further, taking advantage of the team's comprehensive driver development programme that works on driver fitness, simulator practice, media training and driver coaching from reigning FIA World Rallycross champion Timmy Hansen.
After testing one of #YellowSquad's Lites cars at Kalvholmen Motorstadion in Sweden towards the end of last year, Krogstad has already been hard at work in 2020. Last week he participated in a training camp at #YellowSquad headquarters in Götene, Sweden, joining team principal Kevin Hansen, Head of Driver Development Timmy Hansen and his new team-mate Dan Skocdopole on maximising his fitness, working on car control and perfecting his technique in the simulator.
Teamsjef Kevin Hansen:
"It's awesome to have a guy as talented as Henrik join the #YellowSquad programme. He's already shown his speed in a Lites car before and we want to take him to the next level.
"Henrik was part of our training camp last week and he's already integrated very well into the team; he wants to succeed and is working really hard to achieve that success, which is super important. We have the tools here at #YellowSquad to help him improve even more, so now the hard work begins!"
Henrik Krogstad:
"I really believe in the #YellowSquad concept: I have seen Timmy and Kevin are putting a lot of effort into creating a team that has everything a driver needs to succeed. All the cars in RX2 are the same, so it's the other factors that are most important. I really believe that the combined rallycross experience of Hansen Motorsport and Team Färén will make the difference in the end.
"It's been very good to come to a team that I really believe in and have respect for. I feel I fit in perfectly with the team. It definitely has a family team atmosphere, which I feel is important: if you want to work together to succeed, having the team feel like home is a very big plus.»
2020 RX2 International Series presented by Cooper Tires Calendar
| | |
| --- | --- |
| April 18/19 |                                           Barcelona, Spain |
| May 02/03 |                                           Montalegre, Portugal |
| June 13/14 |                                           Hell, Norway |
| July 04/05 |                                           Höljes, Sweden |
| August 01/02 |                                           Nürburgring, Germany |
| September 05/06 |                                           Lohéac, France |
| November 14/15 |                                           Cape Town, South Africa |