Andreas Mikkelsen og Torstein Eriksen er tilbake i Rally-VM etter en pause på åtte måneder.
Mikkelsen og Eriksen er på plass i Portugal og kjører helgens VM-runde på portugisiske grusveier. De viste under shake down i dag formiddag at de har tempoet inne. De var raskest av WRC2-førerne i første gjennomkjøring med sin Skoda Fabia RS Rally2. De valgte å kjøre kun en gang, så etter hvert var det flere førere som var raskere.
Den raskeste var norsk/svenske Oliver Solberg, som kjører for samme team som Mikkelsen, Toksport med Skoda Fabia RS.
Første fartsetappe kjøres fredag morgen.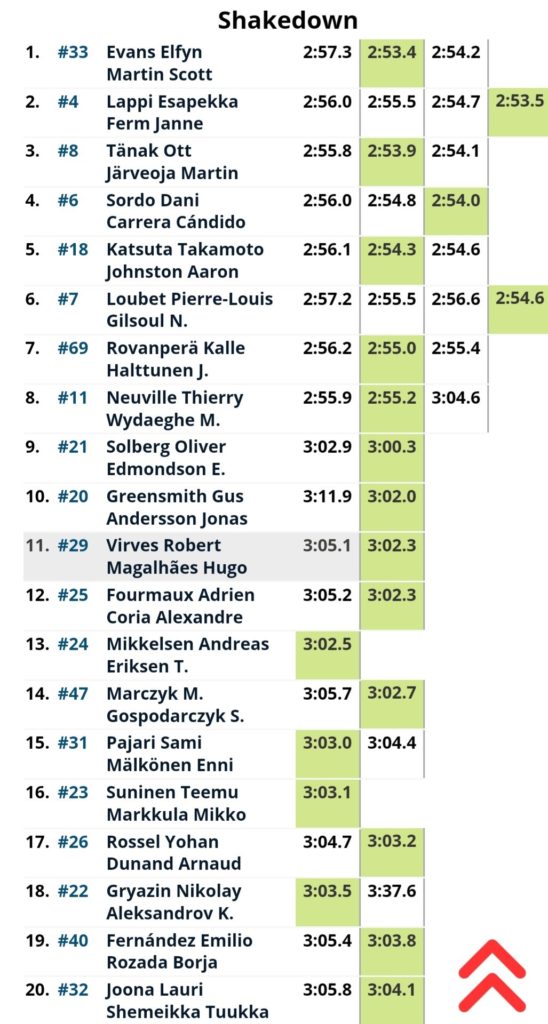 Pressemelding fra Skoda Motorsport:
Rally de Portugal:
Former champion Andreas Mikkelsen returns to
the wheel of a Škoda for WRC2 comeback
› After an eight-month break from WRC2, Andreas Mikkelsen/Torstein Eriksen compete fifth round of the FIA World Rally Championship with a Toksport WRT run Škoda Fabia RS Rally2
› Škoda Fabia RS Rally2 crews Oliver Solberg/Elliott Edmondson and Gus Greensmith/Jonas Andersson each chase second WRC2 victory of the season
› Emil Lindholm (Škoda Fabia RS Rally2), defending WRC2 champion and currently WRC2 second overall, steps aside as Rally de Portugal is not part of his program
Mladá Boleslav, 10 May 2023 – Welcome addition to the Škoda squad at Rally de Portugal (11-14 May 2023), fifth round of the FIA World Rally Championship (WRC): Andreas Mikkelsen, WRC2 Champion in a Škoda in 2021, is back at team Toksport WRT. Mikkelsen and co-driver Torstein Eriksen, both from Norway, will make their WRC season debut with the Škoda Fabia RS Rally2. Candidates for WRC2 victory at this year's first pure gravel rally are also Škoda Fabia RS Rally2 crews Oliver Solberg/ Elliott Edmondson (SWE/GBR) and Gus Greensmith/Jonas Andersson (GBR/SWE) who are currently holding third and fifth position respectively in the WRC2 overall standings.
Driving a team Toksport WRT run Škoda, Andreas Mikkelsen in 2021 won both the WRC2 title and the FIA European Rally Championship overall. Last year, he finished runner-up in the WRC2 final classification. Upcoming Rally de Portugal will be his first WRC event since Acropolis Rally Greece in September 2022. "I am happy to be back in WRC2. I like the smooth gravel stages of Portugal and Iknow from my testing experience, that they fit to the Škoda Fabia RS Rally2 very well," the Norwegian says.
Mikkelsen's Toksport WRT team mates Oliver Solberg from Sweden and Briton Gus Greensmith are chasing their respective second WRC2 victory of the season. After winning the category at Rally Sweden together with British co-driver Elliott Edmondson, Solberg currently lies third in the WRC2 Drivers' classification. Together with Swedish co-driver Jonas Andersson, Greensmith won WRC2 at Guanajuato Rally México on his WRC debut at the wheel of a Škoda Fabia RS Rally2. Coming to Portugal, he holds fifth spot in the WRC2 overall standings.
Reigning WRC2 Champion and currently second overall in WRC2, Emil Lindholm, will not show up in Matosinhos, where the service park of Rally de Portugal is located. The Portuguese WRC round is not one of the Finn's seven nominated events to score WRC2 points. Other Škoda drivers fighting for WRC2 honours include Czech Erik Cais of Orsák Rally Team as well as Finnish youngster Sami Pajari and Marco Bulacia from Bolivia, both driving for Toksport WRT. In the WRC Masters Cup, which is reserved for drivers aged 50 and over, former FIA European Rally Champion Armin Kremer from Germany (Škoda Fabia RS Rally2) is aiming for the overall lead.
Rally de Portugal begins on Thursday evening (May 11) with the ceremonial start in the picturesque city centre of Coimbra. On Friday (May 12), the competitors head to the region around Arganil. A total of eight special stages over a distance of around 120 kilometres are to be driven. Saturday (May 13) is the longest leg of the event and is characterized by seven special stages covering more than 148 kilometres. On Sunday (May 14), the focus is on the special stages around Fafe with their fast and smooth gravel tracks including the famous jump. In total, the teams have to master 19 stages over 329.06 kilometres. The winners reach the finish in Matosinhos near Porto at around 2:20 pm on Sunday.
Did you know, that…
…the Škoda Fabia Rally2 (formerly known as R5) made its FIA World Rally Championship debut at Rally de Portugal back in 2015?
…Rally de Portugal was first held in 1967 and in 1973 was one of the founding events of the then new World Rally Championship?
…until 1994, the rally traditionally started in Estoril close to Lisbon and the first leg was held on tarmac, before it became an all gravel-event in 1995?
…from 2007 to 2014 the rally was held in the Algarve region before moving back to the north?
…in 2012 world champion to be Sébastien Ogier won his class with a Škoda Fabia S2000 and finished an impressive 7th overall?
Top-3 WRC2 Drivers' overall classification (before Rally Croatia)
Yohan Rossel (FRA), Citroën C3 Rally2, 53 points
2. Emil Lindholm (FIN), Škoda Fabia RS Rally2, 44 points
3. Oliver Solberg (SWE), Škoda Fabia RS Rally2, 43 points
Top-3 WRC2 Teams overall classification (before Rally Croatia)
Toksport WRT (Škoda), 80 points
2. Toksport WRT 2 (Škoda), 65 points
3. M-Sport Ford World Rally Team, 60 points