Når Dennis Hauger kjører årets sjette runde og to nye løp i FIA Formula 3 i Barcelona denne helgen, så er det en helt ny bane for den norske formel-føreren.
Det er tett program for Dennis Hauger og ti løp er allerede kjørt i F3 denne sesongen. Kommende helg er det Formel 1 i BArcelona, og som vanlig er også Formel 3 på programmet.
Foran de to løpene ligger Dennis Hauger på en 15. plass sammenlagt med 14 poeng. Han har en tredjeplass som sin beste plassering i de ti første løpene.
Som vanlig kjøres ett løp lørdag formiddag og ett løp søndag formiddag. De kan ses direkte på Viasat Sport og Viaplay.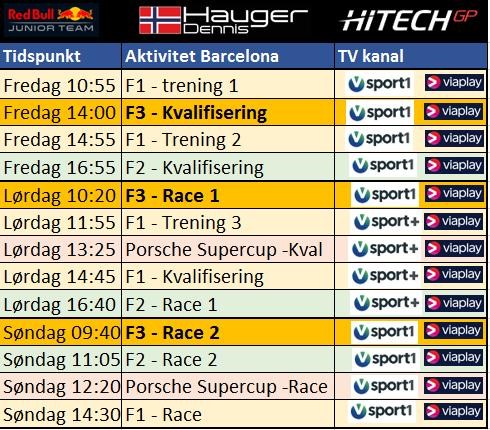 PRESSEMELDING FRA RED BULL JR. TEAM
FIA F3 Championship position: 4th – 77 points – after 10 races
FIA F3 Championship position: 15th – 14 points – after 10 races
FIA F3 Championship position: 20th – 1 point – after 10 races
FIA F3 Championship position: 28th – 0 points – after 10 races
Already 10 races into the 2020 FIA F3 season it is proving to be an incredible competition. Liam Lawson left Silverstone having gained points on most of the opposition and certainly has his sights set on winning the championship.
Fellow Red Bull Juniors, Dennis Hauger, Jack Doohan and Igor Fraga are all headed to Barcelona picking out the best from the four races in Britain to build better results in Spain.
Lawson in focus
"It's not my favourite track," admitted the 18-year-old New Zealander. "But after 2 weeks at Silverstone I am ready for something new."
The Hitech driver pinpointed what he wants to work on. "We still need to understand the car a bit better for more Race pace really. That is what we need, the Quali has been good."
Hauger with more speed
"I've never raced in Barcelona but it is a track that looks cool and technical," enthused the 17-year-old Norwegian. "It will be interesting and I hope we can make a step there and just get on with it the way we should."
On Sunday in Silverstone the most important thing for the Hitech team was to see that missing speed had been found. "It seemed in Race 2 last weekend that the car was better, we had more speed than in Quali but it is difficult to be sure with slipstream and DRS just how good it is so we will see. Hopefully it will be good for Barcelona."
Fraga made a point
The good news, late on Sunday was that the 21-year-old Brazilian was elevated to 10th after another driver got a post race penalty and hence gained his first point of the season.
The Charouz driver wants more in Barcelona. "We know from the previous rounds that the Race pace is quite OK, I have been able to make up positions every time. What we need is a better Qualifying pace so that we can then be fighting much higher up. That's the main goal at the moment."
"I drove in Barcelona last year so that is an advantage, it is a track I know and like so I am very comfortable going into the weekend."
Doohan will put it all together
"Silverstone was frustrating but we did make progress," stated the 17-year-old Australian. "We've got to leave the bad stuff behind and concentrate on the good. We've now got some good Qualifying pace and good Race pace so we need to put them together for some results," asserted the HWA driver who was 2nd fastest in Practice and 7th quickest in Qualifying in Silverstone 2.
Barcelona is where it will show. "I know the track, I've done plenty of laps there even though some have done more so I am looking forward to it, every circuit I go to I seem to enjoy more in this car so I don't think it should be a problem."
Barcelona weekend schedule – all times CEST

09:35 – Practice (45 minutes)

14:05 – Qualifying (30 minutes)