Oliver Solberg og hans kartleser Aaron Johnston vant helgens Susquehannock Trial Performance Rally (STPR) i Pennsylvania.
Det var Olivers andre seier i Subaru i den amerikanske serien i år. Han har vært på pallen i alle fem løppene han har kjørt denne sesongen i USA og har så langt to seire.
PRESSEMELDING fra Oliver Solberg
It's an (another) American dream win for Oliver Solberg
Two weeks ago he won two rally titles on the Lõuna-Eesti Ralli
A week ago he was amazing at Gymkhana GRiD (just not quite as amazing as his Dad!)
This week it's Stateside win #2 for Subaru Motorsport USA
17-year-old Oliver dominates the STPR in his WRX STI
The season so far: 10 rallies, 7 wins (two class wins)
The ARA season so far: 5 rallies, 2 wins, 3 podiums
Seventeen-year-old Oliver Solberg scored his second American Rally Association win at the Susquehannock Trial Performance Rally (STPR) in Pennsylvania yesterday (Saturday).
Oliver dominated the two-day event based out of Wellsboro to make it seven victories from 10 rallies (two of which, Rally Estonia and Lõuna-Eesti Ralli were comfortable R5 class wins) so far this season.
Leading from the first stage in his Subaru Motorsports USA WRX STI, Oliver and his Northern Irish co-driver Aaron Johnston built a comfortable advantage of more than a minute by the end of Friday's action.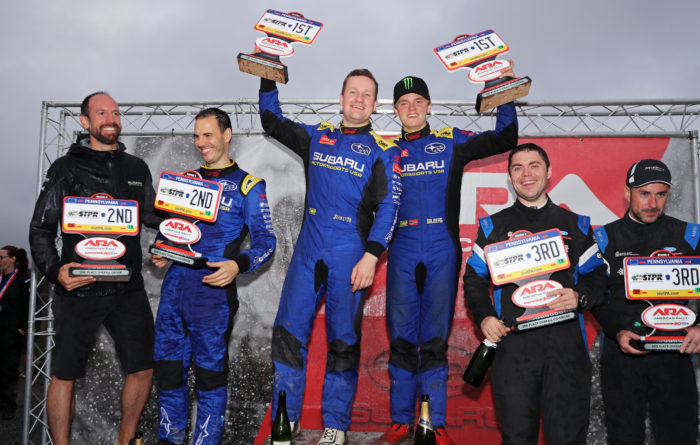 The pair won eight from 10 stages in a faultless performance from the #70 Subaru.
Saturday delivered more of the same, until a transmission problem slowed Oliver in the penultimate test. The Vermont SportsCar squad soon had that powertrain glitch sorted in time for the superstar youngster to go out and bag his second rally victory in two weeks. Admittedly, he won his class (and two rally championship titles) and missed out by a Lõuna-Eesti win to a Ford Fiesta WRC by just 3.9s.
Oliver said: "I have had so much fun in this car at this rally. OK, not so much fun when I only had front-wheel drive for the last-but-one stage, but the team built such a strong car, it was no problem. And when we came to service, they had it fixed really fast. They are fantastic.
"On this rally, I felt I totally was at home in the car. I think it was the best I ever felt driving the Subaru; it was like I could do exactly what I want. Honestly, the power and the feel from the car was amazing. Even when the rain came, we were sliding and having a lot, a lot of fun.
"I have to thank everybody at Subaru Motorsports USA and Vermont [SportsCar] for this. America is a real adventure for me this year. I have done five events and this is my third podium and second win with the team – that's a good record and one I'm really proud of. You know how much the Subaru name means to us Solbergs, so to have success like this is special."