Andreas Bakkerud var tilbake på seierspallen da årets fjerde runde av Nitro RX ble kjørt på Glen Helen Raceway i USA i helgen.
Andreas kjørte inn til en 3. plass i et løp som skulle bli en stor suksess for svenske JC Raceteknik. Teamet tapetserte seierspallen med Fraser McConnell fra Jamaica og svenske Robin Larsson på plassene foran Andreas.
Andreas Bakkerud har kjørt alle fire løpene i denne helelektriske rallycrosserien i år. Hans plasseringer har vært 2-1-4-3, tre ganger på pallen på fire løp med andre ord.
Årets siste løp kjøres 12.-13. november i Phoenix Arizona, mens serien fortsetter med nye løp rett over årsskifte.
Pressemelding fra JC Raceteknik
Swedish-American Nitro Rallycross Championship team Dreyer & Reinbold Racing and JC Raceteknik (DRR JC) completed a second podium lock-out in the four rounds of the season so far, as the squad's three drivers all finished on the rostrum at Glen Helen in Los Angeles.
Competing in the Group E category for single-specification all-electric FC1-X machines, the amalgamated squad, led by Team Principal Joel Christoffersson secured another maiden wiin with a new driver to victory lane, and extended its points advantage in both the Teams' and Drivers' championships.
Jamaican star Fraser McConnell dominated in Glen Helen, taking top position in the Battle Brackets on Saturday before winning his Sunday heat race from pole position. In the last race of an intense weekend of action, McConnell fended off a challenge for his position at the start of the final, then led from the front to secure a first win at this level.
The result comes just a round following a huge accident for McConnell, at the ERX Motor Park, where he also fought back to claim his first-ever Nitro RX podium. McConnell's victory, in his first year racing an all-electric car, lifts him to third in the Drivers' standings.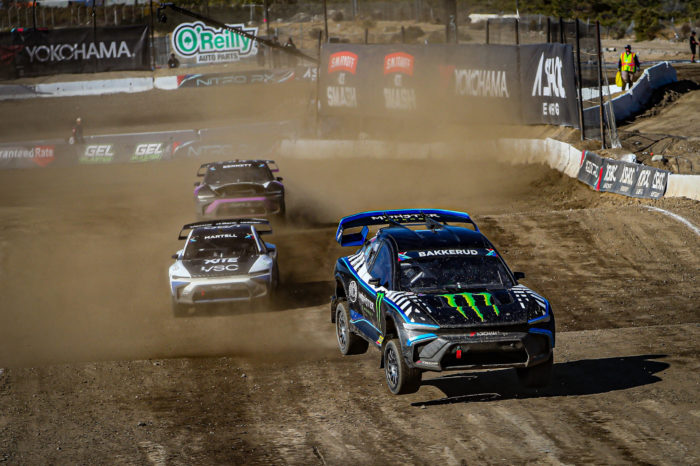 Joel Christoffersson, JC Raceteknik Team Principal:
"What a fantastic weekend it has been. We had some bad pace on Saturday but really found the speed on Sunday when it really mattered for all three drivers. I'm so proud of the team and how they have worked again this weekend, and I'm so proud of Fraser to take his first win. It's been a great job by everyone, it's amazing to lock the podium out at this level against some very, very good competition. We're looking forward very much now to the next race in Phoenix."
Swedish driver Robin Larsson fought back from a difficult Battle Brackets session to win his heat on Sunday to rebuild his weekend. The two-time European Rallycross Champion took his joker lap early in the final race in a bid to out-manoeuvre race leader McConnell and Monster Energy RX Cartel DRR JC team mate Andreas Bakkerud, having run second through the opening turns. He would finish second come the finish and secured a haul of points to extend his lead at the head of the Drivers' standings.
In the sister FC1-X run under the RX Cartel banner, Bakkerud like McConnell fought back from a challenging weekend at ERX to return to the Nitro RX podium for the first time since the Norwegian claimed victory in the Swedish round of the campaign at Strangnas, the result ensuring that Bakkerud retains second in the Drivers' standings. His event ended with a fierce battle to the finish with teammate Larsson.