Eyvind Brynildsen kom meget godt fra sin oppgave som reserve i Toksport Skoda-teamet i Akropolis Rally. 4.plass i WRC2 og 10. plass totalt ble fasit. Andreas Mikkelsen beholdt VM-ledelsen til tross for trøblete start.
Andreas Mikkelsen og Torstein Eriksen fikk den verst tenkelige start på løpet. Allerede etter et par hundre meter inn på åpningsetappen på Olympiastadion i Athen torsdag kveld hoppet de nærmest ut av banen og deres Skoda fikk ødelagt hjulopphenget på venstre side foran. De måtte bryte løpet, men kom til start under super rally-reglene fredag morgen med 10 minutters tidstillegg.
Da manglet det tydeligvis ikke på motivasjon og tenning inne i hjelmene til Mikkelsen og Eriksen. De vant 11 av løpets siste 15 etapper i WRC2, blant annet Power Stage. Endte på 7.plass i WRC2 og 13. plass totalt. De var til slutt under åtte minutter bak WRC2-vinner Emil Lindholm.
Uflaksen på første etappe ble snudd til flaks på siste etappe da franske Yohan Rossel kjørte ut og rullet med sin Citroën. Han lå på 3.plass og er en VM-utfordrerne i WRC2.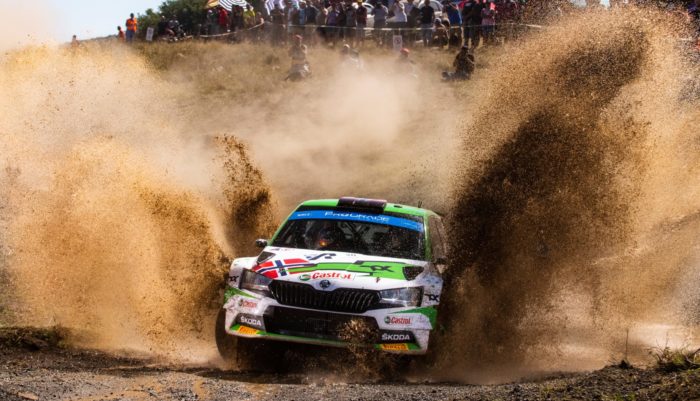 Eyvind Brynildsen og Roger Eilertsen hadde problemer før løpet startet. Det ble oppdaget en skade på beskyttelsesburet i deres bil under teknisk kontroll. Dermed måtte Toksport få tak i et nytt chassis og nærmest bygge opp en ny rallybil. Det gjorde de i rekordfart. De rakk ikke shake down torsdag morgen men de rakk SS1 torsdag kveld.
Brynildsen/Eilertsen kjørte jevnt og godt gjennom hele løpet og endte til slutt på 4.plass i WRC2 og en sterk 10. plass totalt. Vi tipper de ikke mangler selvtillit foran NM-avslutningen på Hedemarken kommende lørdag.
Pressemelding fra Skoda Motorsport
Acropolis Rally Greece:
Double WRC2 victory for ŠKODA FABIA Rally2 evo driver Emil Lindholm
› Reigning Finnish Rally Champions Emil Lindholm/Reeta Hämäläinen dominate WRC2 and WRC2 Junior at the FIA World Rally Championship's tenth round
› With seventh position reigning WRC2 champion Andreas Mikkelsen (ŠKODA FABIA Rally2 evo) defends lead in category overall standings
› Armin Kremer from Germany, a former FIA European Rally Champion at the wheel of a ŠKODA FABIA Rally2 evo, wins WRC2 Masters class for the third time this season
Athens (GRC), 11 September 2022 – After winning WRC2 at Acropolis Rally Greece, ŠKODA FABIA Rally2 evo driver Emil Lindholm from Finland not only takes back the overall lead in the WRC2 Junior standings. He is also a late entry into the chase for the WRC2 Drivers' championship. In the overall standings, Lindholm closes the gap to current leader Andreas Mikkelsen (ŠKODA FABIA Rally2 evo) from Norway to 20 points.
After their home victory in Finland, Emil Lindholm/Reeta Hämäläinen won WRC2 for the second time during the 2022 season. Driving a Toksport WRT run ŠKODA FABIA Rally2 evo, they dominated the category during Acropolis Rally Greece, tenth round of the FIA World Rally Championship. After 16 gruelling gravel stages, they reached the finish ramp with a lead of 36 seconds. At the same time, Lindholm won WRC2 Junior, regaining the overall lead in the class reserved for drivers 30 years and younger.
With this victory, Lindholm also enters the circle of possible WRC2 Drivers' champions. He trails current overall leader Andreas Mikkelsen from Norway, who also drives for ŠKODA Motorsport supported team Toksport WRT, by 20 points. But in contrast to Mikkelsen, who has already reached his maximum of seven points scoring events, Lindholm can enter two more rallies.
Acropolis Rally Greece was as tough as expected. High summer temperatures and rough gravel stages put crews and cars to their limits. Unimpressed by the conditions, Lindholm/Hämäläinen took the WRC2 lead on the first proper stage on Friday morning and never looked back. "We won this rally on our pace and I am so happy, honestly," Lindholm beamed. "I knew when we came here that it could be a good rally for us, but there are always question marks and lots of risks. We really managed it well and I am very grateful to the team for providing us with a car which could survive in these conditions."
Next placed ŠKODA FABIA Rally2 evo crews in WRC2 were Nikolay Gryazin/Konstantin Aleksandrov in second and Norwegians Eyvind Brynildsen/Roger Eilertsen in fourth. Former FIA Asian-Pacific Rally Champion Gaurav Gill from India and co-driver Gabriel Morales from Brasil reached the finish in sixth position.
Unfortunately, defending WRC2 champion Andreas Mikkelsen was out of contention for victory already after the opening stage on Thursday evening. The Norwegian hit a concrete barrier inside the Athens Olympic Stadium, resulting in a broken suspension and a time penalty of ten minutes. After the Toksport WRT mechanics had repaired the ŠKODA FABIA Rally2 evo, Mikkelsen and co-driver Torstein Eriksen bounced back by posting eleven fastest WRC2 times during the 16 stages. They managed to climb back to seventh position. With the nine championship points, Mikkelsen defended his lead in the WRC2 overall rankings.
WRC2 Masters, the class reserved for drivers 50 years and older, developed into a lonely affair for former European Rally Champion Armin Kremer. Navigated by Rally Dakar winning co-driver Timo Gottschalk, he clearly was a cut above the rest of the field. Sharing a Baumschlager Rallye&Racing run ŠKODA FABIA Rally2 evo, the German crew was more than 14 minutes ahead of everybody else at the finish.
From Greece, the FIA World Rally Championship travels to the other side of the globe to Rally New Zealand. Top ŠKODA FABIA Rally2 evo crew at the Auckland based gravel event will be Kajetan Kajetanowicz/Maciej Szczepaniak from Poland. Triple European Rally Champion Kajetanowicz, absent from Acropolis Rally Greece, has the chance to close the gap to WRC2 overall leader Andreas Mikkelsen.
Result Acropolis Rally Greece (WRC2)
1. Lindholm/Hämäläinen (FIN/FIN), ŠKODA FABIA Rally2 evo, 3:42:38.6 hrs
2. Gryazin/Aleksandrov (ANA/ANA), ŠKODA FABIA Rally2 evo, +36.1 sec
3. Tsouloftas/Whittock (GRC/GBR), Volkswagen Polo GTI Rally2, +3:07.2 min
4. Brynildsen/Eilertsen (NOR/NOR), ŠKODA FABIA Rally2 evo, +3:10.1 min
5. Zaldivar/Der Ohannesian (PRY/ARG), Hyundai i20N Rally2, +5:19.0 min
Number of the rally: 11
ŠKODA FABIA Rally2 evo crew Andreas Mikkelsen/Torstein Eriksen were WRC2 fastest on eleven of the 16 stages and also on the rally-ending Powerstage. After incurring a ten minutes time penalty due to not reaching the service on Thursday evening, they finished the rally seventh in WRC2 less than eight minutes behind category winners and Toksport WRT teammates Emil Lindholm/Reeta Hämäläinen.
Top-5 overall WRC2 Open/Drivers (after 10 of 13 rounds)
1. Andreas Mikkelsen (NOR), ŠKODA FABIA Rally2 evo, 109 points
2. Emil Lindholm (FIN), ŠKODA FABIA Rally2 evo, 89 points
3. Yohan Rossel (FRA), Citroën C3 Rally2, 80 points
4. Kajetan Kajetanowicz (POL), ŠKODA FABIA Rally2 evo, 76 points
5. Nikolay Gryazin (ANA), ŠKODA FABIA Rally2 evo, 72 points
Top-3 overall WRC2 Junior (after 10 of 13 rounds)
1. Emil Lindholm (FIN), ŠKODA FABIA Rally2 evo, 108 points
2. Chris Ingram (GBR), ŠKODA FABIA Rally2 evo, 92 points
3. Nikolay Gryazin (ANA), ŠKODA FABIA Rally2 evo, 81 points