Lørdag er det verdenspremiere for den nye Skoda Fabia RS Rally2 og midt i begivenheten befinner Andreas Mikkelsen og Torstein Eriksen seg.
Endelig, vil nok mange si, skal Mikkelsen og Eriksen få debutere i konkurranse med Skodas nye våpen i Rally2-klassen og dermed WRC2. De vil som vanlig kjøre for Toksport når de setter seg inn i den splitter nye bilen for å ta fatt på de ti fartsetappene i Lausitz-Rallye på lørdag. Etter flere måneder med intens testing der både Mikkelsen, Pontus Tiedemand og ikke minst Kris Meeke har vært sentrale er det klart for løpsdebut på tysk grus.
-Løpet er helt nytt for meg og av det jeg har sett av videor fra tidligere utgaver så kan det se ut til å bli en utfordrende debut for vår nye bil, sier Mikkelsen. Den regjerende WRC2-mesteren har startnummer 1 i løpet som har base i byen Boxberg.  Har har fem forskjellige etapper som alle kjøres to ganger. Lengste etappe er Reichwalde med sine 24 km.
Mikkelsen/Eriksen blir ikke eneste norske deltakere i løpet. Anders Grøndal med kartleser Marius Fuglerud stiller også i sin Skoda Fabia Rally2. Grøndal har kjørt løpet flere ganger tidligere, og har startnummer 6. Bjørn Bækkevold og Helen Lund stiller også til start i Mitusbishi Lancer.
Pressemelding fra Skoda Motorsport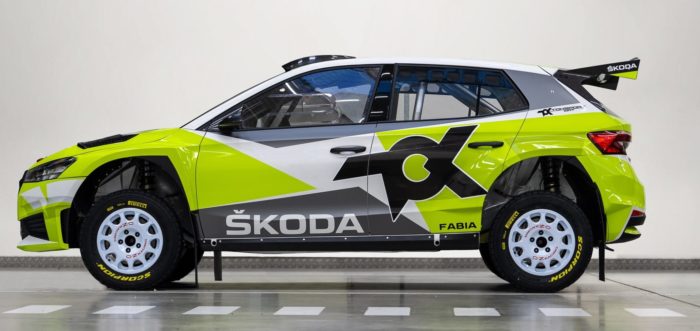 WRC2-Champion Andreas Mikkelsen debuts
ŠKODA FABIA RS Rally2 at Lausitz-Rallye
› First event under competition conditions for ŠKODA FABIA RS Rally2
› Team Toksport WRT has entered all-new rally car from ŠKODA Motorsport into final of European Rally Trophy (ERT)
› German event known as one of the most demanding gravel rallies in Central Europe
Mladá Boleslav, 26. October 2022 – The ŠKODA FABIA RS Rally2 faces its official competition debut. With support from ŠKODA Motorsport, team Toksport WRT has entered the all-new car into Germany's Lausitz-Rallye (5 November 2022). Reigning WRC2 champion Andreas Mikkelsen will tackle the gravel stages at the wheel of the four-wheel drive, roughly 214 kW (289 PS) strong rally car based on the road-going ŠKODA FABIA.
After months of intensive testing in private, the ŠKODA FABIA RS Rally2 made its first public appearance last July. It took over duties as zero car during Bohemia Rally, an all-tarmac Czech championship round based in ŠKODA's hometown of Mladá Boleslav. ŠKODA Motorsport development driver Andreas Mikkelsen tackled the stages some minutes ahead of the first competitor. The reigning WRC2 champion also has the honours to take to the wheel of the ŠKODA FABIA RS Rally2 for its first appearance under proper competition conditions. And this time, gravel stages are on the program. Together with co-driver Torstein Eriksen, Mikkelsen will compete the Lausitz-Rallye on 5 November 2022, the finale of the European Rally Trophy (ERT) in Germany. As usual, the two Norwegians drive for team Toksport WRT, with support from ŠKODA Motorsport one of the main players in the FIA World Rally Championship's premier feeder class WRC2.
As stipulated by the regulations, the ŠKODA FABIA RS Rally2 features a 1.6 litres turbo-charged petrol engine coupled to a five-speed sequential gearbox and a four-wheel drive free of electronic control systems. While the chassis of the ŠKODA FABIA RS Rally2 is based on the FABIA series model, the engine is derived from the engine family ŠKODA uses in its RS road cars. With the capacity reduced to the allowed 1.6 litres, the four cylinder engine in rally spec delivers roughly 214 kW (289 PS).
Lausitz-Rallye is based in the city of Boxberg in the eastern federal state of Saxony, close to Germany's border with Poland. Known as one of the most demanding gravel rallies in Central Europe, most of its stages use service roads of former or even still active opencast lignite mining sites. Highlight is the 24 kilometres long "Reichwalde" test, like all stages to be driven twice. "The rally is completely new to me," says Andreas Mikkelsen. "What I have seen from videos, the stages are pretty fast. In some parts, deep ruts make especially the second runs quite rough. The rally should make the competition debut of the ŠKODA FABIA RS Rally2 a real challenge."
Lausitz-Rallye, a one-day event (5 November 2022), features ten special stages covering a total of 145.56 kilometres. The last four editions were won be drivers using ŠKODA FABIA Rally2. Former German champions Matthias Kahle and Fabian Kreim celebrated two victories each.
Selection of ŠKODA crews at Lausitz-Rallye
| | |
| --- | --- |
| Andreas Mikkelsen/Torstein Eriksen (NOR/NOR) | ŠKODA FABIA RS Rally2 |
| Matthias Kahle/Christian Dörr (GER/GER) | ŠKODA FABIA Rally2 |
| Raul Jeets/Andrus Toom (EST/EST) | ŠKODA FABIA Rally2 evo |
| Filip Mareš/Radovan Bucha (CZE/CZE) | ŠKODA FABIA Rally2 evo |
| Anders Grøndal/Marius Fuglerud (NOR/NOR) | ŠKODA FABIA Rally2 |