At ting er historisk har det nærmest gått inflasjon i, men i helgen må en konstatere at Fredric Aasbø og Simen Olsen skrev seg inn i Norsk Bilsporthistorie med gullskrift da de sto sammen på seierspallen under femte runde av Formula Drift-serien i USA.
Fredric og Simen har begge hatt en svært god sesong så langt. I helgen toppet det seg for de norske farger så langt, med Fredric på en andreplass og Simen på tredjeplass. De to møttes også til et helnorsk oppgjør i semifinalen, og Aasbø tok seg til finalen med knappest mulig margin.
Etter helgens løp i St.Louis, Missouri, leder nå Fredric Aasbø Formula Drift med 303 poeng. Han er 15 poeng foran Matt Field. Helgens vinner, Aurimas Bakchus fra Litauen, ligger på 3.plass med 273 poeng. Simen Olsen, som har kjørt inn 164 poeng – flere enn noen annen – på de to siste rundene, er på en 5.plass med totalt 260 poeng.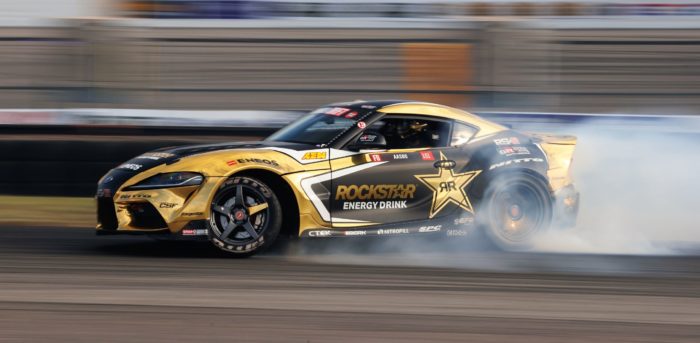 Pressemelding fra Papadakis Racing Toyota team
Fredric Aasbo regains points lead in St. Louis
Ryan Tuerck looks ahead to comeback at next round
ST. LOUIS, Missouri (July 17, 2023) – Fredric Aasbo vaulted into the Formula Drift points lead with a hard-fought second-place result in St. Louis this weekend, while Ryan Tuerck found himself sidelined in the Top 16.
The ladder to the finals wasn't easy for Aasbo. He qualified seventh in the Rockstar Energy Toyota GR Supra and then advanced past Alec Robbins, Robert Thorne, and Jonathan Hurst to land in an all-Norway Final Four against Simen Olsen.
A pair of split decisions put the contest into overtime as judges called for two one-more-time reruns before unanimously advancing Aasbo to the finals against Aurimas "Odi" Bakchis.
Fans packed the grandstands until after midnight to watch Aasbo and Bakchis square off. It was a close fight, but when the smoke cleared, Aasbo landed in second. It wasn't the victory he wanted, but the podium result was enough to put him into the championship points lead. With three events remaining in the season, Aasbo leads the rankings by 15 points.
"Competition is as much a battle of will as skill," said three-time series champion Aasbo. "Focus and teamwork is what gets you through the rounds and I have to thank my guys for hanging in there with me this weekend to the bitter end. It was a tough one."   
The St. Louis result is Aasbo's third podium this season. The driver scored third at the California season opener and second at Round 3 in Orlando. There have been five different winners in five rounds so far and Aasbo is still looking for his first win of 2023. 
Despite a strong qualifying performance, Tuerck had a weekend to forget in St. Louis. He qualified his Rain-X / Nitto Tire Toyota GR Corolla fourth overall and advanced past Ola Jager in the Round of 32. But he was unable to convert his potential to a podium after a mechanical break left him unable to start his Top 16 match.
The 20th anniversary season of Formula Drift is shaping up to be the most competitive in series history, with a trio of three-time champions in the mix and any driver capable of scoring an outright win at every stop.
Next for the team is Round 6: Throwdown at Evergreen Speedway near Seattle, Washington, August 11 and 12. The Pacific Northwest track is a popular stop for fans and promises a sell-out crowd.
The Papadakis Racing team began drifting in 2004 and is the most winning team in Formula Drift history, earning the 2022, 2021 and 2015 titles with driver Fredric Aasbo, as well as back-to-back championships with driver Tanner Foust in 2008 and 2007. Partner Toyota has won the manufacturer's cup eight times since 2014. Tuerck joined the Papadakis Racing team in 2020 in a Toyota Corolla Hatchback and has shown strong results, bringing home the third-place championship trophy twice in the past three seasons.
Fans can follow the action for Tuerck, Aasbo, and the whole Papadakis Racing Toyota team by tuning in to the Rockstar Energy YouTube series "Controlled Chaos," which takes fans behind the scenes all season. Binge watch the 2022 season now on YouTube at https://www.youtube.com/rockstarenergy and subscribe to be notified as this year's content drops.
Drifting is a high-skill, high-powered motorsport with an emphasis on car control. In the Formula Drift series, drivers compete in knockout heats on a closed course, sliding sideways in trials judged on speed and style. With origins in Japan, the sport has rapidly grown to one of the most popular youth-oriented motorsports in the world. Here in the United States, Formula Drift officially launched in 2004 and its national schedule of eight events routinely host capacity crowds, while live-streamed multi-platform broadcasts attract millions of online viewers.