Andreas Mikkelsen og Torstein Eriksen beholdt VM-ledelsen i WRC2 selv om de var hjemmesittere under helgens Rally Chile.
Seier til Oliver Solberg og Elliot Edmondson var ganske perfekt for den norske Skoda-duoen.  Gus Greensmith og Yohan Rossel var begge på desperat jakt etter seier i Chile, men norsk/svenske Oliver Solberg ville det annerledes. Oliver holdt de to bak seg også på Power Stage, så det ble ikke mange ekstrapoeng der.
Mikkelsen topper dermed fortsatt VM-tabellen med sine 108 poeng på fem løp. Yohan Rossel har 104, men han har tatt poeng i seks løp så langt. Greensmith, også han med seks løp, har 99 poeng.
Mikkelsen/Eriksen gjør sitt sjette løp i det nye asfaltløpet i Sentraleuropa siste helgen i oktober, og der kan VM-tittelen sikres. For Torstein Eriksens del er en ny VM-tittel så godt som på plass i lomma. Han har seks tellende løp og 127 poeng etter å ha tatt poeng med Ole Chr Veiby i Rally Sweden også. Arnaud Dunand har 104 poeng.
Etter løpet i Tsjekkia, Tyskland og Østerrike gjenstår kun Rally Japan.
Vi minner om at det er førernes seks beste resultater fra sju nominerte løp som er tellende for VM i WRC2.
Standings WRC2/Drivers (after 11 of 13 rallies)
1 Andreas Mikkelsen (NOR), Škoda, 108 points (from 5 rallies)
2 Yohan Rossel (FRA), Citroën, 104 points (from 6 rallies)
3 Gus Greensmith (GBR), Škoda, 99 points (from 6 rallies)
4 Oliver Solberg (SWE), Škoda, 91 points (from 7 rallies)
5 Sami Pajari (FIN), Škoda, 86 points (from 7 rallies)
Pressemelding fra Skoda Motorsport:
Rally Chile: Full Škoda WRC2 podium at the
only South American round of the world series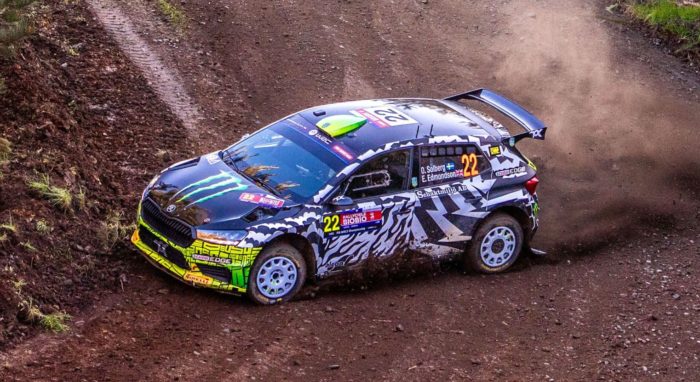 › Oliver Solberg/Elliott Edmondson (Škoda Fabia RS Rally2) win category WRC2 at the FIA World Rally Championship's eleventh round
› Toksport WRT teammates Gus Greensmith/Jonas Andersson and Sami Pajari/Enni Mälkönen finish second and third respectively
› Škoda driver Andreas Mikkelsen didn't compete, but keeps WRC2 overall lead
Concepción (CHL), 1 October 2023 – Škoda Fabia RS Rally2 crews took the first three positions at Rally Chile, eleventh round of the FIA World Rally Championship (WRC). After a thrilling duel with Sami Pajari/Enni Mälkönen, Oliver Solberg/Elliott Edmondson won the category. In the end, Pajari/Mälkönen finished third behind their Toksport WRT teammates Gus Greensmith/Jonas Andersson.
For two days, Škoda Fabia RS Rally2 crews Sami Pajari/Enni Mälkönen and Oliver Solberg/Elliott Edmondson fought tooth and nails for the WRC2 lead. At the end of the Friday leg, the Finns, who claimed their maiden WRC2 on home soil earlier this year, held a 13.3 lead over the Swedish-British pairing. "I love this rally. And the opening leg was maybe my favourite," beamed Pajari, who was fastest on all three of the first leg's afternoon stages.
On Saturday morning, the duel continued. The long by average stages, the abrasive gravel surface as well as dust hanging between the trees and obstructing visibility often caused big time differences between the top crews. After Saturday's first stage Pajari had to relinquish his lead to Solberg, when he dropped almost 40 seconds.
The 21-year-old Finn bounced back and regained the top spot immediately after the midday service. But his aggressive approach came at a cost. While Solberg had saved his tyres for the day's final, 28.72 kilometres long "Maria de las Cruces" test, Pajari's Pirelli rubber was so worn, that he lost 49.6 seconds in this stage alone. The Finn even had to hand over second place of the category to his Toksport WRT teammates Gus Greensmith/Jonas Andersson. "From now on, it's all about saving the WRC2 Challenger win," Pajari realised with a glance to the sub-category, where only drivers are eligible for points, who have not yet won a WRC2 or WRC3 title as well as not previously been nominated to score manufacturer points.
When – literally – the dust had settled on Saturday evening, Solberg/Edmondson were leading WRC2 by 25.3 seconds. "These Chilean roads are incredible but very tricky to master. I had a very good feeling in the car. We managed our tyres through the second loop for a big push in the last stage of the day," said Solberg, who had lost his glasses in between. "That means, I'm not at 100 per cent pace."
With one more WRC2 stage win on Sunday, Solberg paved his way to his second category victory of the season. "Finally a win again! Unfortunately, my championship chances are long gone. But it is still an amazing feeling," commented the 22-year-old son of former FIA World Rally Champion Petter Solberg. In total, he was fastest on five of the event's 16 stages.
Gus Greensmith and co-driver Jonas Andersson secured second position with two WRC2 stage wins. "We needed the win. But I don't think there's more me or Jonas could have done," Greensmith said with respect to the championship situation. The Briton trails overall leader Andreas Mikkelsen by nine points. As per regulations only the six best results of seven rallies are taken into account, Greensmith has only the upcoming Central European Rally left to score. Basically the same applies to Yohan Rossel (Citroën), who finished fourth. The Frenchman lies second overall in WRC2, but also has only one rally left to score compared to Mikkelsen's two more.
As planned after the second leg, Sami Pajari and co-driver Enni Mälkönen won the WRC2 Challenger classification. "I'm really glad we made it to the finish and to the podium, even though the driving during the final leg was like taking my grandma to the church," Pajari joked. With two rallies left, this result puts him in a strong position to win the WRC2 Challenger title. In contrast, the Finn's strongest competitors left Chile empty handed: Both Kajetan Kajetanowicz from Poland and Marco Bulacia from Bolivia didn't reach the finish.
The penultimate round of the FIA World Rally Championship is a new event: the all-asphalt Central European Rally (26 to 29 October 2023) starting in Prague (Czech Republic), crossing Austria and finishing in Passau (Germany). Then, WRC2 overall leader Andreas Mikkelsen will be back behind the wheel of Toksport WRT's Škoda Fabia RS Rally2. The Norwegian has good chances to prematurely win the second WRC2 title of his career.
Rally Chile, 29 September – 1 October 2023, Result WRC2
1 Oliver Solberg/Elliott Edmondson (SWE/GBR), Škoda Fabia RS Rally2, 3:14:56.6 hours
2 Gus Greensmith/Jonas Andersson (GBR/SWE), Škoda Fabia RS Rally2, +25.8 seconds
3 Sami Pajari/Enni Mälkönen (FIN/FIN), Škoda Fabia RS Rally2, +1:02.1 minutes
4 Yohan Rossel/Arnaud Dunand (FRA/FRA), Citroën C3 Rally2, +1:35.4 minutes
5 Nikolay Gryazin/Konstantin Aleksandrov (ANA/ANA), Škoda Fabia RS Rally2, +1:49.7 minutes
Standings WRC2/Drivers (after 11 of 13 rallies)
1 Andreas Mikkelsen (NOR), Škoda, 108 points (from 5 rallies)
2 Yohan Rossel (FRA), Citroën, 104 points (from 6 rallies)
3 Gus Greensmith (GBR), Škoda, 99 points (from 6 rallies)
4 Oliver Solberg (SWE), Škoda, 91 points (from 7 rallies)
5 Sami Pajari (FIN), Škoda, 86 points (from 7 rallies)