Norge har til tider hatt både Hedda Hosås og Andreas Bakkerud som førere i serien Extreme E. Hedda har nylig oppsummert ett år i teamet til tidligere formel 1-stjerne Jenson Button i denne serien for store elektrisk drevne biler.
Hedda er inne i sin andre sesong i denne serien, der flere kjente biulsportutøvere som Sebastien Loeb, Johan Kristoffersson, Carlos Sainz og Mathias Ekström også deltar. Hedda fikk sin debut i Saudi Arabia som reserve for teamet Veloce Racing. Etter debute har hun vært med i serien snart to år, og har en pallplassering. Nå har hun kjørt ett år for teamet til Jenson Button, JBXE, og her reflekterer hun både over det siste året, egne ambisjoner og fremtiden.
Pressemelding fra Extreme E:
Hedda Hosås looks back on a year with JBXE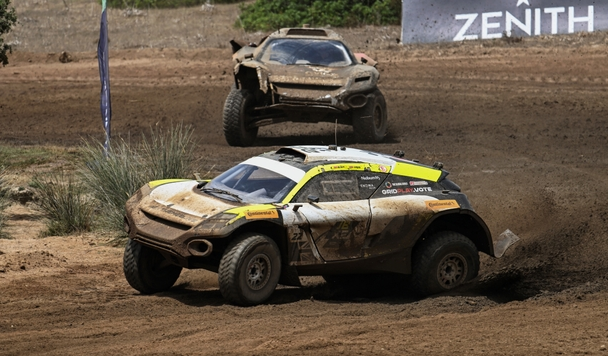 The recent Island X Prix in Sardinia marked a year since Hedda Hosås made her first appearance for Jenson Button's JBXE outfit. After making her Extreme E debut at the Season 2 opener in NEOM, Saudi Arabia, deputising for the injured Christine GZ at Veloce Racing, Hosås has been an ever-present in the series, even securing a podium finish in her first full event in the championship in Italy. Extreme E caught up with the young Norwegian to reflect on her experiences in the series so far, how she has developed as a driver in the past year, and her ambitions for the future.
Extreme E: You have been racing in the series for more than a year now. It seems to have flown by – how would you look back on the last 12 months?
Hedda Hosas: It's crazy to think that it has been more than a year already. I love the whole concept of Extreme E, with its environmental elements and being able to learn about problems throughout the world where we are travelling, and to do the small things that can help inspire others.
The gender equal format is also so important. It's a very big opportunity for me to race in the series. It's been a challenging journey so far, but I have made sure I have done my best at each event.
XE: Could you sum up Extreme E in three words?
HH: Extreme, Intense and quick.
XE: For those not aware of your motorsport background, could you describe your journey to racing in the championship?
HH: My first contact with Veloce Racing was Ian Davies, who was Team Principal at the time. He was looking for up and coming female talent and he went to Denmark to watch me compete in a rallycross race. I was then offered a test in an Extreme E ODYSSEY 21, which I did in France, and that was how the journey started with Veloce Racing. It was definitely a case of being at the right place at the right time.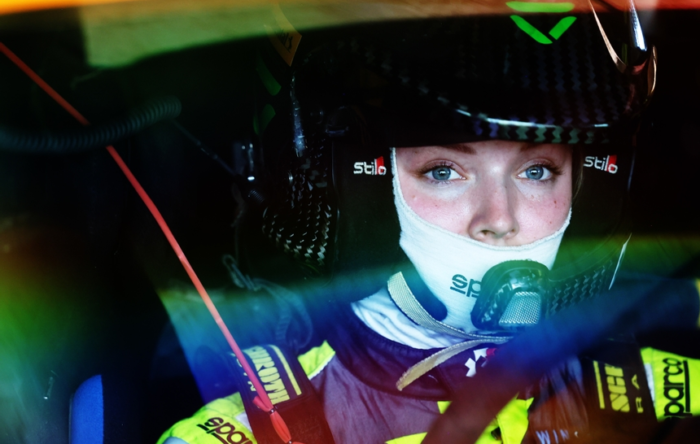 I was then the series' Championship Driver at the start of Season 2, and I stepped in at Veloce Racing after Christine GZ broke her foot in Qualifying at the first race in Saudi Arabia. Of course, it is not the way you want it to happen, but sometimes it goes that way. And it was tough!
I was straight into the Crazy Race, so it was very intense. I had a technical problem right at the start, so I didn't really get the chance to prove anything out on track, but I got my name out there which was great.
XE: Who has been the biggest influence on your motorsport career so far?
HH: Ian Davies has been really important. From the beginning when he saw me in Denmark and then taking care of me even though he wasn't the Team Principal of Veloce Racing anymore, he helped me out as a friend and he helped my family – which has been incredible.
He's just a really nice person. On a recent Instagram post, Lance [Woolridge – former driver in Extreme E] described him as a walnut with a marshmallow inside – I liked that one!
XE: You then switched to race for JBXE – although still contracted to Veloce Racing as a reserve driver – for the next round in Sardinia, where you made quite an impact to finish in the top three in your first event for the team. How was that?
HH: A week before the double-header in Sardinia I got the call to drive for JBXE, as Molly [Taylor] was only competing in the first race. Although it was still quite late in the day, it was really good for me as I got to do a race weekend in full, starting with a Free Practice session rather than diving straight into the Crazy Race. It was also great to work with Kevin [Hansen – team-mate at JBXE] who is Swedish and so we understood each other!
It was such a great opportunity for me and we got on the podium, which you wouldn't think you would get to do first time out. It was such an amazing feeling.
XE: What is it like having Jenson Button as your boss?
HH: I've actually not met Jenson yet, but he's obviously a very talented guy, so to race for him is a huge thing for me. I would not have believed it if I had told myself that a few years ago. He's a big name and I think it's good for the series as well to have such a great name. I haven't got to meet him yet, but I hope so soon.
XE: You have had four team-mates so far in Extreme E – Kevin Hansen, Fraser McConnell, Heikki Kovalainen and Andreas Bakkerud. What have you learnt from them?
HH: I would say I have learnt a lot from all of my team-mates so far. It's very good to be with different drivers as they work in different ways. They are all different people, so you learn how they like to prepare. Some are more stressed or intense, and some are less so. Some are extremely relaxed – like Fraser [McConnell]! That almost scares me as I'm like 'why are you not more stressed before a race?', and Fraser would just respond with 'don't worry!'.
They are all really good drivers. Their driving techniques are all different, but they all know how to drive. The main thing is to learn from them, such as how they all prepare for a race and what they do to remember certain things. It's good to be aware of so many different approaches.
XE: How would you describe your own mindset before a race?
HH: Before a race I would say I am a bit more intense, but not so much in the build-up to a race weekend. I am someone who likes to prepare as much as possible. I've also been doing some visualisation techniques before events to help prepare for what's out on track.
XE: Could you describe your season with JBXE so far?
HH: Competing in our first Grand Final of the season this year last time out was a very good moment. In Saudi Arabia, it was obviously Heikki's first race, so it was all new to him, and it was the same with Andreas [Bakkerud] in Scotland. We ended the Hydro X Prix on a high note, though, by winning the Redemption Race and in fact it could have been even better as we had suffered some technical issues with the car.
It really worked well in Sardinia for us and hopefully as a team we will continue to improve.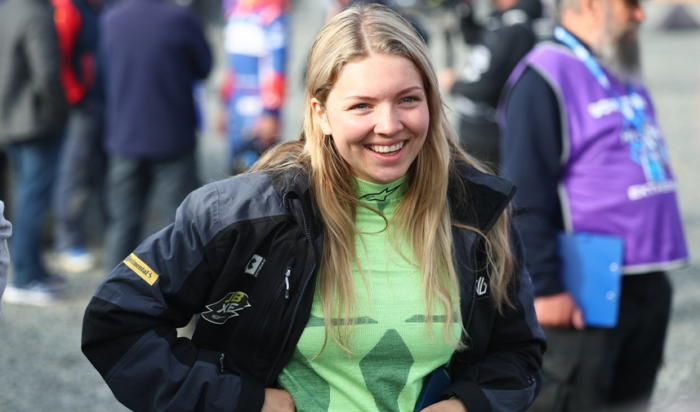 XE: The gender equal format in Extreme E is unique. Do you feel any differently competing against the male drivers out on track, or is it just another competitor to you?
HH: I must say when up against the male drivers I don't feel the same kind of pressure. I am thinking that given their experiences they should beat me, but I think that will change the more experienced I am in the series. I just want to win out on track, no matter who I am racing, although there is now less of a difference in times between the male and female drivers.
In Sardinia, I was able to have a good battle with Timo [Scheider] out on the course. I could not repass him because I had suffered a puncture, but it felt great to fight wheel-to-wheel and showed me that I can do it in this series. At one stage I was also keeping pace with Mattias [Ekstrom] – who is one of the quickest in the whole championship – and not losing much time. That was a really good feeling.
XE: Over the past year, what has been your favourite race in Extreme E?
HH: The Hydro X Prix was great as the track was really interesting, but I liked Sardinia last time out. It was very good, fast racing, with no crashes, so I would say that was my best in Extreme E so far.
XE: What have been your biggest learnings so far in the series?
HH: The main things I have learnt from Extreme E are the mindsets and techniques of the male drivers given the experiences they have had. There is so much talent across the championship, and there is so much to learn from which can only help my career.
XE: Lastly, what are your aspirations competing in Extreme E and across motorsport?
HH: I would really like to be one of the fastest drivers on the grid and certainly fastest of the girls. I hope I can continue competing in the series and my goal is to stay for as long as possible.
Racing in Extreme E has really helped with my career. I love racing. One day in the future I would love to compete in the Dakar Rally and maybe even become a world champion down the line. I would love to inspire other girls as well in whatever I do in my career.