Det ble en vanskelig helg for Fredric Aasbø fra Team Norway, da Formula Drift besøkte Englishtown i New Jersey i helgen, men Simen Olsen (bildet) forsvarte de norske fargene med en sterk andreplass.
Fredric Aasbø var best av samtlige i kvalifiseringen, men røk ut av konkurransen tidlig. Dermed fikk han med seg bare 19 poeng fra New Jersey, men beholder allikevel en delt andreplass sammenlagt i årets svært jevne serie.
-Det er utrolig hard og jevn konkurranse i år, og det har vært forskjhellige vinnere i alle løp så langt, sier Fredric Aasbø. Han står bokført med 215 poengf, mens seriens lederMatt Field har 256. Chelsea Denofa har også 215 poeng.
Etter helgens andreplass i Englishtown ligger Simen Olsen på en fin 5.plass med sine 184 poeng. Simen fikk med seg 88 poeng bare nå i helgen.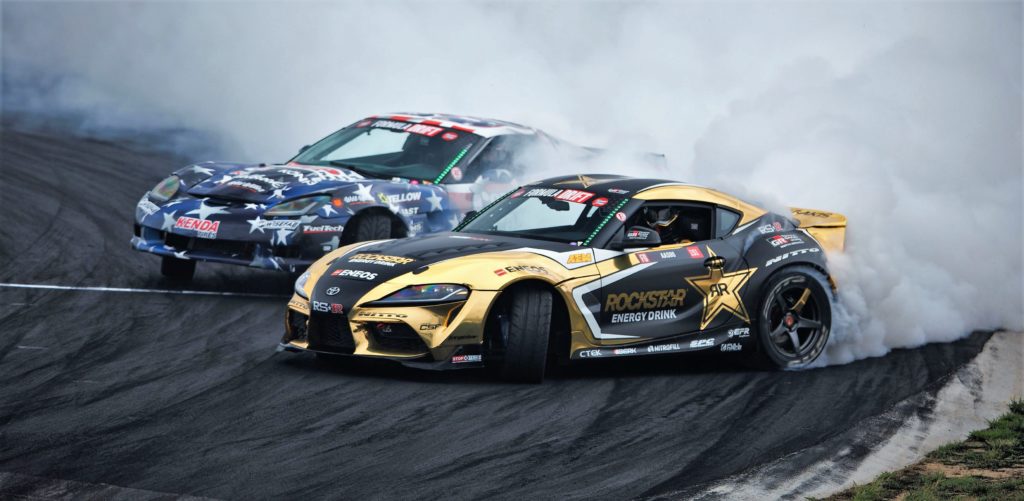 PRESSEMELDING Fra Papadakis Racing Toyota
FD points battle close as Papadakis Racing Toyotas enter second half of season
Ryan Tuerck scores Top-5 result in NJ while Fredric Aasbo now tied for 2nd in series points
ENGLISHTOWN, New Jersey (June 26, 2023) – Fredric Aasbo is in a close points battle at the front of the Formula Drift standings after a challenging weekend in New Jersey. Despite qualifying first and second, neither of the Papadakis Racing Toyota drivers were able to convert their success to a podium as Aasbo faced a rare Round of 32 elimination and teammate Ryan Tuerck scored fifth.
This event saw a first-time series winner in Adam LZ and a dramatic shakeup at the top of the points. When the dust settled on the weekend, both Papadakis Racing Toyota drivers remained in the Top 10 with Aasbo tied for second and Tuerck in a three-way tie for seventh. With four rounds still to go, both remain in contention for the title in 2023.
«There has been a different winner at each round of this season so far and Ryan and I are aiming to continue that streak through the next two stops,» said Aasbo. «Every competition weekend is a chance for us to shake up the points.»
The 20th anniversary season of Formula Drift is shaping up to be the most competitive in series history, with a trio of three-time champions in the mix and any driver capable of scoring an outright win at every stop. The sport's bracket-elimination format means that drivers must put everything on the line in every round.
Top qualifier Aasbo's battle was the first of the competition and he pulled to the starting line just as rain hit the tight, figure-8 style course on Saturday. Uncharacteristically tentative on patchy track conditions, his run wasn't enough to defeat Ken Gushi's Toyota GR86. It was the three-time defending champion's first opening round elimination since 2020. He enters the second half of the season motivated to get the Rockstar Energy Toyota GR Supra back on top.
Tuerck qualified second in the Rain-X / Nitto Tire Toyota GR Corolla and battled past Kyle Mohan in the opening round to face young driver Branden Sorensen in the Top 16. When Tuerck and Sorensen met last year in New Jersey, their battle ended in a tangle when Sorensen missed a corner and sent Tuerck into the wall. This time, Tuerck emerged unscathed and advanced to face three-time series champion James Deane. The competition was close and Deane advanced while Tuerck claimed fifth-place points.
Aasbo and Tuerck started their trip to the east coast with a stop in New York City for the unveiling of a trio of new special edition Toyota GR vehicles for 2024 — a 45th anniversary GR Supra, a blue Circuit Edition GR Corolla and the throwback TRUENO edition GR86.
Next for the team is Round 5: Crossroads in St. Louis, Missouri, at World Wide Technology Raceway. Competition starts Thursday, July 13 with pro class qualifying, and the Top 32 opens at 4 p.m. on Saturday July 15. The Missouri round again features the ProSpec development class, which will compete on Friday, July 14.
The Papadakis Racing team began drifting in 2004 and is the most winning team in Formula Drift history, earning the 2022, 2021 and 2015 titles with driver Fredric Aasbo, as well as back-to-back championships with driver Tanner Foust in 2008 and 2007. Partner Toyota has won the manufacturer's cup eight times since 2014. Tuerck joined the Papadakis Racing team in 2020 in a Toyota Corolla Hatchback and has shown strong results, bringing home the third-place championship trophy twice in the past three seasons.
Fans can follow the action for Tuerck, Aasbo, and the whole Papadakis Racing team by tuning in to the Rockstar Energy YouTube series "Controlled Chaos," which takes fans behind the scenes all season. Binge watch the 2022 season now on YouTube at https://www.youtube.com/rockstarenergy and subscribe to be notified as this year's content drops.
Drifting is a high-skill, high-powered motorsport with an emphasis on car control. In the Formula Drift series, drivers compete in knockout heats on a closed course, sliding sideways in trials judged on speed and style. With origins in Japan, the sport has rapidly grown to one of the most popular youth-oriented motorsports in the world. Here in the United States, Formula Drift officially launched in 2004 and its national schedule of eight events routinely host capacity crowds, while live-streamed multi-platform broadcasts attract millions of online viewers