Helgens Rally Japan blir en ren sjarmøretappe for Andreas Mikkelsen og Torstein Eriksen. De kan kjøre gjennom de 22 asfaltetappene med smil om munnen vel vitende om at deres VM-titler er allerede sikret.
Under shake down i Japan var imidlertid ikke noe som tydet på at den norske Skoda-duoen har til hensikt å legge seg på et lavt fartsnivå. De var raskest av WRC2-førerne 1.7 sekunder foran Nikolay Gryazin. Mikkelsen hadde også 10. beste tid totalt av alle deltakerne. Thierry Neuville i Hyundai var raskest av samtlige.
Både Andreas Mikkelsen og Gus Greensmith står bokført med 111 poeng foran Rally Japan. Mikkelsen er foran med tre seire i år, mens Greensmith har to. Så kan Mikkelsen øke sin sum med et godt resultat i Japan. Han har så langt kun kjørt seks av sju mulige løp. Så er det slik at et av løpene skal strykes, og seks er altså tellende.
Norsk/svenske Oliver Solberg deltar ikke i Japan. Smman med kartleser Elliot Edmondson var han med på gjennomkjøringen for å få erfaring, men de kjører altså ikke løpet.
Som nevnt er det 22 etapper i FORUM8 Rally Japan. Tilsammen utgjør etappene 304.66 km.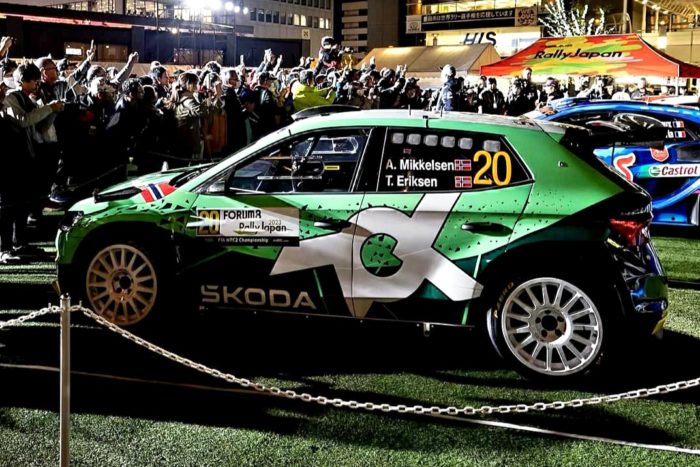 Pressemelding fra Skoda Motorsport:
› 42-year-old Finn Heikki Kovalainen and navigator Sae Kitagawa come to the 2023 FIA World Rally Championship's final round as reigning Japanese Champions
› Škoda Fabia RS Rally2 drivers Kajetan Kajetanowicz and Nikolay Gryazin fight for WRC2 Challenger Title 
› Newly crowned WRC2 Champion1 Andreas Mikkelsen and co-driver Torstein Eriksen (Škoda Fabia RS Rally2) want to round off the season with fourth category victory
Mladá Boleslav, 15 November 2023 – As WRC2 Drivers' and WRC2 Teams' championships have already been decided in favour of Andreas Mikkelsen1 (Škoda Fabia RS Rally2) and Škoda Motorsport customer Toksport WRT1, the focus during the season-ending Rally Japan (16-19 November 2023) turns to the fight for the WRC2 Challenger title. A celebrity guest driver. Kajetan Kajetanowicz and Nikolay Gryazin chase WRC2 Challenger overall leader Sami Pajari, all three of them at the wheel of a Škoda Fabia RS Rally2. Also driving a Škoda Fabia Rally2, former Formula 1 racer Heikki Kovalainen takes on the WRC2 regulars.
The 2023 season of the FIA World Rally Championship (WRC) comes to an end in Japan with one WRC2 title still up for grabs. Kajetan Kajetanowicz of ORLEN Rally Team and Toksport WRT's Nikolay Gryazin, both at the wheel of a Škoda Fabia RS Rally2, mathematically have the chance to overtake overall leader Sami Pajari. The Finn, who also competes for Škoda Motorsport customer team Toksport WRT, has already reached his maximum of seven points scoring events and will not travel to Japan. With 25 points on the table for a category win, Kajetanowicz and Gryazin trail Pajari by 10 and 22 points respectively.
The two remaining WRC2 titles have already been decided. Norwegian Andreas Mikkelsen (Škoda Fabia RS Rally2) has won the championship for a second time. And Škoda Motorsport customer Toksport WRT has successfully defended its title as WRC2 Teams' champion. With the only goal to enjoy the season's last rally, Andreas Mikkelsen looks forward to the asphalt stages in the vicinity of Nagoya on Japan's main island Honshu. "What an amazing season we had. It was a tough fight for the title. The Škoda Fabia RS Rally2 is a perfect fit for tarmac roads. My clear goal is to achieve the fourth season win," emphasizes Mikkelsen, who will be co-driven as usual by fellow Norwegian Torstein Eriksen.
Another Škoda driver starting Rally Japan with no pressure at all is Alexander Villanueva. The Spaniard leads the WRC Masters Cup, the sub-category reserved for drivers older than 50 years. Since second-placed Armin Kremer has not entered the season finale, Villanueva will be crowned champion whatever his result will be.
No fewer than eight of the eleven drivers entered into WRC2 at Rally Japan rely on a Škoda Fabia Rally2. One of them is Ex-Formula 1 racer Heikki Kovalainen from Finland. The winner of the 2008 Hungarian Grand Prix is competing in Japan since 2015 in circuit racing as well as in rallying. Sharing a Team Aicello Škoda Fabia Rally2, Kovalainen and local co-driver Sae Kitagawa won the Japanese Rally Championship in 2022 and again this year. Celebrating their WRC debut during Rally Japan twelve months ago, the mixed crew finished a strong fourth in WRC2. During the 2023 season, Kovalainen also competed in the Finnish Rally Championship driving a Škoda Fabia RS Rally2 running on fossil-free fuel and lubricants.
The officially named Forum8 Rally Japan consists of 22 special stages with a total length of more than 304 kilometres on mostly winding and sometimes very narrow asphalt roads. The season finale starts with a spectacular show stage inside a stadium on Thursday evening (16 November). The Friday leg offers seven stages with a total length of around 132 kilometres. On Saturday, eight special stages covering around 85 kilometres are on the agenda. Sunday (19 November) will bring the decision with six special stages totalling 84 kilometres. The winner is expected on the podium at 4h00 pm local time.
1subject to confirmation by the FIA
Did you know, that…
…Rally Japan was held as a WRC round already from 2004 to 2010? At that time, it was run on gravel stages.
…the rally is part of the WRC calendar again since 2020 as an all-new tarmac event but had to be cancelled in 2020 and 2021 due to the pandemic?
…Rally Japan service park is located on the grounds of a football stadium in the Nagoya area, Japan's fourth biggest city around 400 kilometres west of the capital Tokyo?
Standings WRC2/Drivers (after 12 of 13 rallies)
1 Andreas Mikkelsen (NOR), Škoda, 111 points (from 6 rallies)*
2 Gus Greensmith (GBR), Škoda, 111 points (from 7 rallies)
3 Yohan Rossel (FRA), Citroën, 104 points (from 7 rallies)
4 Oliver Solberg (SWE), Škoda, 91 points (from 7 rallies)
5 Sami Pajari (FIN), Škoda, 86 points (from 7 rallies)
* Champion, subject to confirmation by the FIA
Standings WRC2/Teams (after 12 of 13 rallies)
1 Toksport WRT 2 (Škoda), 188 points (from 6 rallies)*
2 Toksport WRT 3 (Škoda), 176 points (from 6 rallies)
3 M-Sport Ford World Rally Team, 146 points (from 7 rallies)
4 Toksport WRT (Škoda), 135 points (from 4 rallies)
* Champion, subject to confirmation by the FIA