Petter Solberg imponerte da han kjørte sin tidligere rallycrossbil i et bakkeløp i Sør-Afrika i helgen. Les mer i denne pressemeldingen på engelsk.
The commentator at Sunday's Simola Hillclimb in South Africa said it all.
With the cheers of the Western Cape crowd vying with the crackle and bang of 600 horses straining to be let at the 1900-metre road ahead, Petter Solberg launched the Volkswagen Polo R Supercar.
"Oh my word," boomed the speaker. "Our commentary box was shaking with the noise of that launch control!"
Triple FIA World Champion Petter was on his way. Faced with a myriad of more powerful cars, the hugely popular Norwegian had all-but dismissed hope of a podium.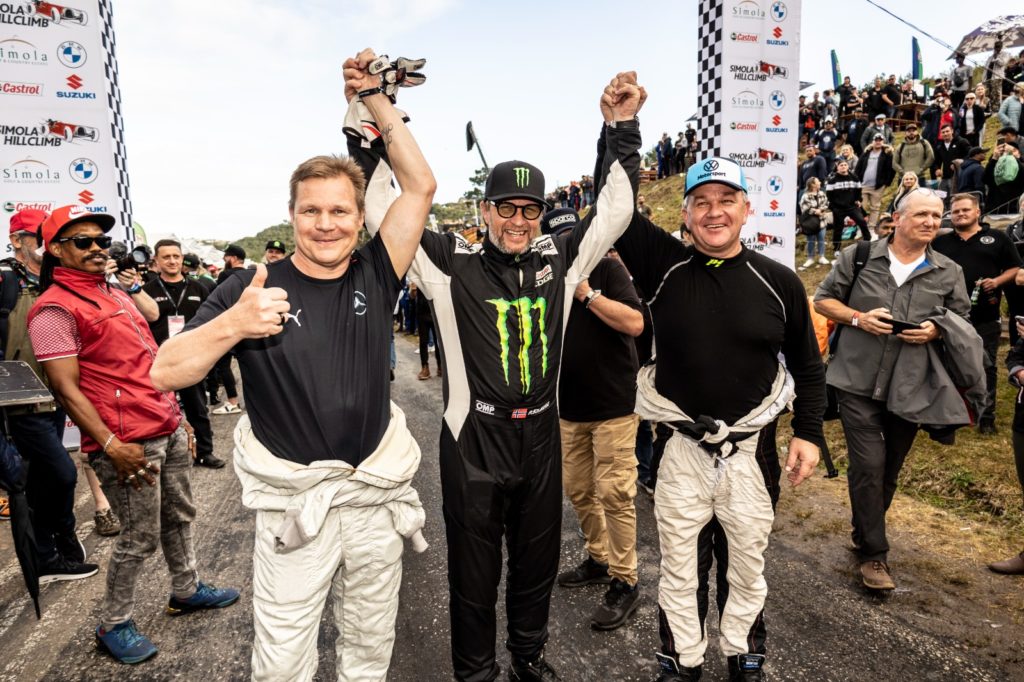 Mika Salo, Petter Solberg og Henning Solberg
It was understandable. Most of the cars he faced had just been re-fettled, factory-fresh and offering more than twice the power. Petter's Polo had been in a museum in Wolfsburg for the last four years. How could it compete?
"If it rains, we have a chance," said Petter with a smile on the eve of Sunday's King of the Hill race.
"You know, I was quite a good dancer when I was younger, tonight I put on my dancing shoes again and I dance for the rain!"
Not for nothing was 'Hollywood' once a Norwegian Disco Dancing Champion.
The rain arrived. And Petter went quickest.
As the final run approach, it dried. And dried a bit more.
"Maybe it's too dry now," he said, minutes ahead of his moment.
Then came the mile-wide smile. "But let's give it everything, anyway!"
And he did. Using every inch of the road, Petter demonstrated both the awesome force that remains Volkswagen's Polo R Supercar and his own world champion-winning mentality, tenacity and talent.
He won his class and made the podium in the King of the Hill.
Opening the door of the Polo at the finish, Petter had clearly enjoyed the previous 41.281 seconds of his life.
"That was incredible," he said. "I love this car. I have so many great memories of this car and I can't thank Volkswagen Motorsport South Africa enough for bringing the Polo down from Germany for this event.
"It's been so, so cool. The fans, the people, the atmosphere, everybody from Volkswagen South Africa, they have all made me and my brother Henning so welcome.
"Of course, it would have been nice to win, but the main thing is to have a fantastic time and put on the best show we can for all of these fantastic people. I think we have done that.
"And I'm happy, the Polo is going back in to Wolfsburg in the same shape it came out!"