Med tre seire under sesongen mot Gus Greensmiths to, sikret Andreas Mikkelsen og Torstein Eriksen seg VM-gull med minst mulige margin på søndag.
Takket et være en kanonkjøring på Power Stage og dermed tre poeng, sikret Andreas VM-gullet. Det skjedde i et løp der han lå svært langt bak i feltet helt fra andre etappe (SS4) fredag formiddag der han hadde en skikkelig avkjøring. Sammen med Torstein Eriksen skled han rett og slett av veien i en blanding av våt asfalt med gjørme og skitt. I mål var den norske Skoda-duoen nummer 13 i WRC2-klassen, mer enn 13 minutter bak vinner Nicolas Ciamin fra Frankrike.
Gus Greensmith endte på 4.plass, mens Yohan Rossel krasjet ut på fredag (SS3). Det var Mikkelsens største utfordrere foran det nye løpet Central Europe Rally. Både Mikkelsen og Greensmith står med 111 poeng etter helgen. Dermed er Andreas foran med sine tre seire gjennom sesongen (Sardinia, Estland, Hellas), mens Greensmith har to seire. Mikkelsen kan plusse på sine poeng i Rally Japan ettersom han har kjørt seks og sju mulige løp så langt. Greensmith har kjørt alle sine sju løp.
Etter trøbbel det meste av løpet, var det helt klart at Andreas Mikkelsen og Torstein Eriksen hadde en klar taktiskk i forhold til avslutningen. De skulle ha tre poeng på Power Stage.
-Vi visste at vi ikke hadde noe å tape da vi sto på start på Power Stage. Det var briste eller bære, og vi kjørte flat out samtidig som alt fungerte perfekt på etappen. Jeg er veldig glad for at satsingen ga full uttelling, sier Andreas som også var verdensmester i WRC2 i 2021.
For Torstein Eriksen er dette tredje VM-gullet på fire år. I 2020 og 2021 med Mads Østberg og i år med Andreas. I 2021 ble Torstein mester blant kartleserne fordi Mikkelsen hadde forskjellige kartlesere under sesongen. Norge hadde altså Verdensmester både for førere og kartlesere uten at de hadde sittet i samme bil!!! Mads Østberg endte opp med VM-sølv dette året.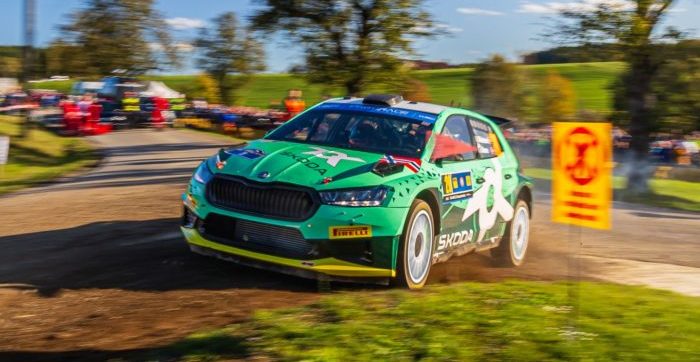 Standings WRC2/Drivers (after 12 of 13 rallies)
1 Andreas Mikkelsen (NOR), Škoda, 111 points (from 6 rallies)
2 Gus Greensmith (GBR), Škoda, 111 points (from 7 rallies)
3 Yohan Rossel (FRA), Citroën, 104 points (from 7 rallies)
4 Oliver Solberg (SWE), Škoda, 91 points (from 7 rallies)
5 Sami Pajari (FIN), Škoda, 86 points (from 7 rallies)
PRESSEMELDING frra Skoda Motorsport
Central European Rally:
Full Škoda podium in WRC2 as Andreas Mikkelsen wins the championship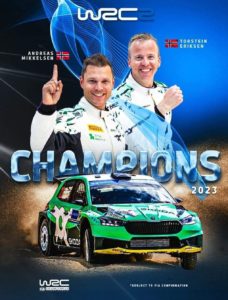 › Equal on points with Toksport WRT teammate Gus Greensmith, Škoda driver Andreas Mikkelsen takes the WRC2 title with 3:2 category victories.
› 17 Škoda crews finish inside the top 20 of the WRC2 classification.
Prague (CZE)/Passau (DEU), 29 October 2023 – Andreas Mikkelsen is the WRC2 Champion of 2023. Three points for winning the power stage at the first ever Central European Rally was enough for the Norwegian to win the title of the FIA World Rally Championship's main support category for a second time. Nicolas Ciamin/Yannick Roche celebrated their maiden WRC2 victory ahead of two more Škoda Fabia RS Rally2 crews, Erik Cais/Daniel Trunkát and Kajetan Kajetanowicz/Maciej Szczepaniak.
After seven rounds on gravel, the FIA World Rally Championship (WRC) returned to asphalt for the first ever Central European Rally. The event started in front of the castle right in the heart of the capital of the Czech Republic, ran through Austria and finished in Passau in the south of Germany. Two short spectator stages opened the rally on Thursday evening without major incidents. On Friday morning, the picture changed completely. Rain caused standing water on some parts of stages, all WRC2 crews left the service park in Passau on wet tyres.
Yohan Rossel, the only non-Škoda driver with championship hopes, was one of the first to fall victim to the extremely demanding conditions. The Frenchman went off in SS3 and had to retire. Andreas Mikkelsen and co-driver Torstein Eriksen had a bit more luck. The Norwegians also left the road (SS4) while leading WRC2, but could continue after spectators pulled their Toksport WRT run Škoda Fabia RS Rally2 back onto the tarmac. With roadside repairs after the stage, Mikkelsen and Eriksen showed exceptional skills as mechanics and kept their car running even without any service scheduled for the rest of the leg. Though, a time-loss of more than ten minutes threw them out of contention for WRC2 victory. Teammates Gus Greensmith/Jonas Andersson also experienced their share of bad luck. A puncture in the day's first stage cost the British-Swedish duo roughly one minute.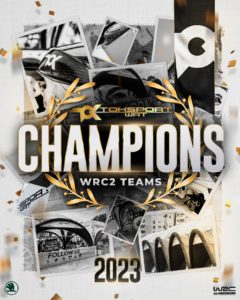 At the end of the first leg, Greensmith/Andersson held eighth position with Mikkelsen/Eriksen down in P19. Best placed Škoda crews in WRC2 at that point were Erik Cais/Daniel Trunkát (Orsák Rally Sport) from the Czech Republic in second position and French tarmac experts Nicolas Ciamin/Yannick Roche (Sarrazin Motorsport) in third.
While Finnish crew Emil Lindholm/Reeta Hämäläinen (Hyundai) controlled the pace at the front of the WRC2 field also on Saturday, Cais/Trunkát and Ciamin/Roche were fighting tooth and nails for runner-up position. At the end of the second leg, the French federation supported Škoda crew had overtaken their Czech competitors and went to sleep with a slim advantage of 2.6 seconds.
Meanwhile, Greensmith/Andersson had climbed to fifth position of the category. But they had more work to do as Greensmith needed at least third place at the finish to take the WRC2 title decision to the season's final round in Japan. Mikkelsen/Eriksen on the other hand were cruising in P16 with the only goal to reach the rally-ending power stage and score as many extra points as possible.
The final leg turned the WRC2 result on its head. On the way to Sunday's first stage, category leaders Emil Lindholm/Reeta Hämäläinen had to park their car due to a technical issue. That handed the category victory to Ciamin/Roche. "It's fantastic," 25-year-old Ciamin said. "A few times I have been in a good position for a good result in WRC2, and it always failed. I am very happy to bring home the result this time after so many years." With Cais/Trunkát in second, the third crew on the podium also competed with a Škoda Fabia RS Rally2: ORLEN Rally Team's Kajetan Kajetanowicz/Maciej Szczepaniak from Poland.
During the power stage, all eyes were on WRC2 title contenders Gus Greensmith and Andreas Mikkelsen, who went into the event's finale in P4 and P13 respectively. Mikkelsen/Eriksen set the fastest time, securing Mikkelsen three points and bringing his account to a total of 111 points. Greensmith/Andersson only managed seventh fastest in the power stage due to a spin – no extra points for the Briton. With fourth position overall in WRC2, Greensmith's points tally also added up to 111. In such a case, the individual results are taking into account, first of all the victories. And this equation sees Andreas Mikkelsen on top with three WRC2 wins (Italy-Sardegna, Estonia, Greece) compared to Greensmith's two (Mexico, Portugal).
"It's a super feeling to have won the WRC2 title for a second time. It's nice because at the beginning of the season, I wasn't expecting to do the championship. I have to thank the fans for dragging us back onto the road on Friday," admitted Mikkelsen. "After that, we concentrated on the power stage. That strategy worked."
Ciamin/Roche also won the WRC2 Challenger classification with Cais/Trunkát second in this sub-category reserved for upcoming drivers. But more importantly, Kajetan Kajetanowicz finished third. The result not only lead to another full Škoda podium. It also brings Kajetanowicz within reach of WRC2 Challenger overall leader Sami Pajari. The Finnish Škoda driver still has an advantage of ten points. But while Pajari has already ticked off all of his seven points scoring events, Kajetanowicz is fully eligible to collect more points at the 2023 finale in Japan. Also Nikolay Gryazin (Škoda Fabia RS Rally2) still has an outside chance to become WRC2 Challenger champion.
Japan will as well set the stage for the title decision in the WRC Masters Cup. German Armin Kremer, co-driven by daughter Ella, drove a Baumschlager Rallye&Racing Škoda Fabia RS Rally2 to an easy victory in the sub-category reserved for drivers 50 years of age and older. Austrians Johannes Keferböck/Ilka Minor finished second ahead of Hungarians Zoltán László/Gábor Zsiros, both crews also relying on a Škoda Fabia RS Rally2.
After Central European Rally, Kremer trails WRC Masters Cup leader Alexander Villaneuva from Spain by 18 points. Although Kremer hasn't entered Rally Japan (16-19 November 2023) yet, the final round of the 2023 FIA World Rally Championship could see the final duel between the two Škoda drivers.
Number of the rally: 17
Škoda crews not only conquered all podium positions in WRC2, WRC2 Challenger and WRC Masters Cup classifications. They also took a total of 17 positions inside the top 20 of the WRC2 result.
Central European Rally, 26-29 October 2023, Result WRC2
1 Nicolas Ciamin/Yannick Roche (FRA/FRA), Škoda Fabia RS Rally2, 3:04:33.0 hours
2 Erik Cais/Daniel Trunkát (CZE/CZE), Škoda Fabia RS Rally2, +32.7 seconds
3 Kajetan Kajetanowicz/Maciej Szczepaniak (POL/POL), Škoda Fabia RS Rally2, +2:06.9 minutes
4 Gus Greensmith/Jonas Andersson (GBR/SWE), Škoda Fabia RS Rally2, +3:01.6 minutes
5 Mikołai Marczyk/Daniel Dymurski (POL/POL), Škoda Fabia RS Rally2, +3:34.5 minutes
6 Nikolay Gryazin/Konstantin Aleksandrov (ANA/ANA), Škoda Fabia RS Rally2, +3:59.0 minutes
…
13 Andreas Mikkelsen/Torstein Eriksen, (NOR/NOR), Škoda Fabia RS Rally, ++13.24.2 minutes
Standings WRC2/Drivers (after 12 of 13 rallies)
1 Andreas Mikkelsen (NOR), Škoda, 111 points (from 6 rallies)
2 Gus Greensmith (GBR), Škoda, 111 points (from 7 rallies)
3 Yohan Rossel (FRA), Citroën, 104 points (from 7 rallies)
4 Oliver Solberg (SWE), Škoda, 91 points (from 7 rallies)
5 Sami Pajari (FIN), Škoda, 86 points (from 7 rallies)