Dennis Hauger er klar for to nye løp i FIA Formula 3 på den legendariske banen Spa Francorchamps i Belgia kommende helg.
Det har så langt vært kjørt seks runder og 12 finaler i mesterskapet og Dennis ligger på en 15. plass sammenlagt med 14 poeng så langt. Han har vært på pallen en gang.
Spa er en nesten ukjent bane for Dennis. Han har kjørt en testdag i F4 der, men det er også alt.
Av de fire Red Bull Jr-førerne så er Dennis nest best så langt i sesongen. Hans teamkolle i Hitech, Liam Lawson, er best med sin tredjeplass sammenlagt.
F3-løpene sendes som vanlig på Viasat Sport og Viaplay. Lørdagens løp kl. 10.20 og søndagens løp kl. 09.40.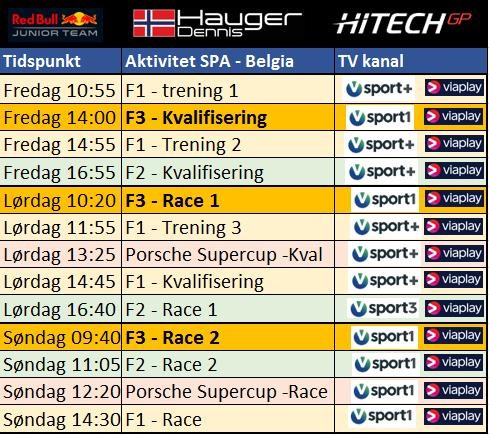 PRESSEMELDING FRA RED BULL JR. TEAM
#5 Liam Lawson (NZL – Hitech Mecachrome Dallara)
FIA F3 Championship position: 3rd – 99 points – after 12 races
#6 Dennis Hauger (NOR – Hitech Mecachrome Dallara)
FIA F3 Championship position: 15th – 14 points – after 12 races
#24 Igor Fraga (BRA – Charouz Mecachrome Dallara)
FIA F3 Championship position: 21st – 1 point – after 12 races
#16 Jack Doohan (AUS – HWA Mecachrome Dallara)
FIA F3 Championship position: 27th – 0 points – after 12 races
A couple of classics and it will be almost over. Only six races remain in the 2020 FIA F3 season and it all happens over just 17 days from Free Practice starting in Spa on August 28th to the 18th and final race of the year at Mugello on September 13th.
It is going to be an incredible finale with those historic venues of Francorchamps and Monza followed by the new turf in the Tuscan hills as a Grand Prix comes to Scarperia.
It's time for an extraordinary focus for Liam Lawson and his Hitech team as they chase the title. No less so for his teammate Dennis Hauger who wants far more from his debut season and fellow Red Bull Juniors Igor Fraga and Jack Doohan who have shown flashes of what they are capable of.
Lawson needs the extra
It has been a very good season for the 18-year-old New Zealander so far but it will take a brilliant finish for him to make up the 32 point deficit and take the title. Two wins is as much as either of his rivals ahead have managed but he also scored zero in Hungary when engine problems put him out of both races.
"We need the maximum every weekend and we have missed out on the big pole bonus a few times and that has cost us. So we need to make a big effort in Qualifying and get things to go our way."
"I think everybody loves Spa, I am certainly looking forward to it. I think that there are still improvements we can make after Barcelona. We have been getting stronger every weekend but the opposition haven't stopped working and we need to be scoring more points than them every time," concluded the Hitech driver.
A new challenge for Hauger 
"I've been there just once," explains the 17-year-old Norwegian. "One day in an F4 car but no experience with a higher category there. It looks really good and I always wanted to race there, a cool and historical track. A lot of long straights so a lot of fighting there I would guess."
The Hitech man knows what is needed. "Hopefully we can make a god step forward for qualifying and get nearer the front."
Doohan happy to be back
"Other than Suzuka it's my favourite circuit so it should be good," enthused the 17-year-old Australian. "We are still working on general confidence with the car, having the right feeling and of course you need that at Spa like you do everywhere but perhaps more at Spa where you are going to put a lot of trust in it at high speed."
"We need it to all jell together so that I can put it on the line, then we'll be good," asserted the HWA driver.
Fraga ready for reality
"It is my first time there in real life but if you look back at Silverstone where I was also driving for the first time it was the same situation and there I scored my first point so I don't see this as something really crazy," points out the 21-year-old Brazilian.
"Of course I have time in the sim and training physically to get my body ready for the challenge as well," added the Charouz team member.
Spa weekend schedule – all times CEST
Friday 28th August 
09:35 – Practice (45 minutes)
14:05 – Qualifying (30 minutes)
Saturday 29th August
10:25 – Race 1 (17 laps or 40 minutes)
Sunday 30th August
09:45 – Race 2 (17 laps or 40 minutes)