Hyundai Motorsport satser norsk/svensk i neste års WRC2-mesterskap. Ole Christian Veiby og Oliver Solberg blir teamets førere.

Hyundai Motorsport names 'exciting talents' for 2021 WRC 2 campaign
Hyundai Motorsport has named WRC 3 winner Oliver Solberg as one of its drivers for the 2021 FIA World Rally Championship-2 season (WRC 2)
Solberg will join current Hyundai Motorsport WRC 2 driver Ole Christian Veiby, who secured three class podiums in the Hyundai i20 R5 in 2020
The two drivers will compete in a mix of R5 and Rally2 machinery during the championship, moving to the Hyundai i20 Rally2 car when it becomes available mid-season.
Alzenau, Germany
December 18, 2020 – Hyundai Motorsport has announced that Oliver Solberg and Ole Christian Veiby will spearhead its manufacturer entry into the 2021 FIA World Rally Championship-2 (WRC 2), strengthening the team's ongoing commitment to nurturing the driving talents of the future.
The two drivers will compete initially in the rally-winning Hyundai i20 R5 before moving into the brand-new Hyundai i20 N Rally2 car when it becomes available for competition mid-season. The new car completed its first tests successfully at the end of November. The precise schedule of 2021 events for Solberg (co-driver Aaron Johnston) and Veiby (co-driver Jonas Andersson) will be announced at a later date.
Oliver is the youngest, upcoming star from the well-known Solberg family, at the age of 19. Having been in and around WRC his entire life, Solberg started out in crosskarts, but by 15 he was learning his rally craft in Latvia as well as in rallycross. He stepped up to R5 machinery in 2019, taking the Latvian/Estonian/Baltic title. He made his WRC debut in Wales Rally GB that same year, and took his first WRC 3 win at this season's Rally Estonia. In addition he claimed the FIA ERC1 junior title. The  Swedish-Norwegian rising star has now signed a two-year agreement with Hyundai Motorsport.
Solber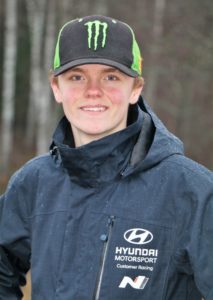 g said: "For me to be joining Hyundai Motorsport is incredible. The team's recent achievements say it all – twice manufacturers' champions in WRC, along with a successful Customer Racing division. It's an exciting time to join a team like this. To have the chance to work for these guys, it's not just a real thrill for me, it will be fantastic to learn from everyone. I am looking forward to driving the i20 R5 and then the i20 N Rally2 car as part of a full WRC 2 campaign next year. We will go into the championship with a winning mentality and with the important responsibility of representing Hyundai around the world. I am also happy to have another young driver, Ole Christian Veiby, in the WRC 2 set-up. I hope this commitment will open the doors to even greater opportunities for me in the future."
"OC" Veiby, meanwhile, is already well acquainted with Hyundai Motorsport and the Hyundai i20 R5, having contested five out of the seven rounds held in 2020. He took his first WRC 2 podium with second place in Rally Sweden, with stages in his home country of Norway, where he made his series debut back in 2016. In his first season with the revised specification Hyundai i20 R5, he added further class podiums in Mexico (third) and Sardinia (second), to finish fourth in the drivers' standings.
Veiby commented: "I am very happy to stay within the Hyundai Motorsport family. I have really enjoyed competing with the Hyundai i20 R5 this year; I've learned a lot and I'm pleased to continue the work we have started. The 2020 season didn't turn out the way we wanted. We took three podiums out of the five WRC 2 events we contested, but there is no doubt we really wanted to win and to be on the top step of the podium. It has been a very different and challenging year, and I'm looking forward to having another year to fight properly in WRC 2. We will start the season in the R5 car, but during the year the new Hyundai i20 N Rally2 car will be introduced and I'm really excited about competing in that. It's also great to have Oliver onboard. I'm sure he will make a valuable contribution to the team and it will be very inspiring for me to work with such a passionate driver."
Hyundai Motorsport has demonstrated its commitment to identifying and supporting up-and-coming talent for a number of years, having added Finnish driver Jari Huttunen to its books three years ago. Throughout 2020, Huttunen has shown why he is such an exciting talent, having secured the Polish national title this year, as well as WRC 3 championship honours. Hyundai Motorsport remains committed to supporting Huttunen, whose programme for next season will be revealed in due course.
Hyundai Motorsport Team Principal Andrea Adamo: "On the back of our second consecutive manufacturers' title in the WRC, it is important for us to reaffirm our commitment to young talent and rising stars. We are pleased to welcome Oliver Solberg into the Hyundai Motorsport family, to join Ole Christian, with whom we have already worked this year. Both are exciting talents and definitely 'ones-to-watch'. Oliver, of course, has a very well known surname but he has already started to prove himself in his own right, with results like the WRC 3 win in Estonia. Ole Christian, too, had some promising results in our i20 R5 during the year. We are confident that both young talents will demonstrate the potential not only of our R5 car initially, but also our brand-new Hyundai i20 N Rally2 car which we expect will make its competitive debut mid-season. Our Customer Racing department has worked fiercely during this challenging year to produce competitive rally machinery for crews around the world, so we are excited to see what our customer cars can do on the world rally stages in 2021 with these ambitious drivers. We can't talk about rising stars without mentioning Jari Huttunen, who has been linked to Hyundai since the end of 2017. He has had a fantastic season in 2020 including the Polish title and the WRC 3 championship. We are working on Jari's programme for 2021 and more will be known on that in due course."