Terminlisten for Rally-VM 2023 er endelig bekreftet i dag. Rally Sweden kjøres 9.-12. februar.
Totalt er det 13 VM-runder i neste års kalender, og tradisjonen tro strater det med Rally Monte Carlo i januar. Rally Sweden i Umeå blir sesongens andre løp, 9.-12. februar. Mexico og Chile er begge med på kalenderen. Mads Østberg deltok som kjent i prøveløp i Chile i år. Et nytt samarbeidsprosjekt, Rally Sentral Europa, er nytt. Det er et samarbeid mellom Tyskland, Tsjekkia og Østerrike i oktober.
Slik er kalenderen

Monte-Carlo: 19 – 22 January
Sweden: 9 – 12 February
Mexico: 16 – 19 March
Croatia: 20 – 23 April
Portugal: 11 – 14 May
Italy: 1 – 4 June
Kenya: 22 – 25 June
Estonia: 20 – 23 July
Finland: 3 – 6 August
Greece: 7 – 10 September
Chile: 28 September – 1 October
Central Europe (AUT, CZE, GER): 26 – 29 October
Japan: 16 – 19 November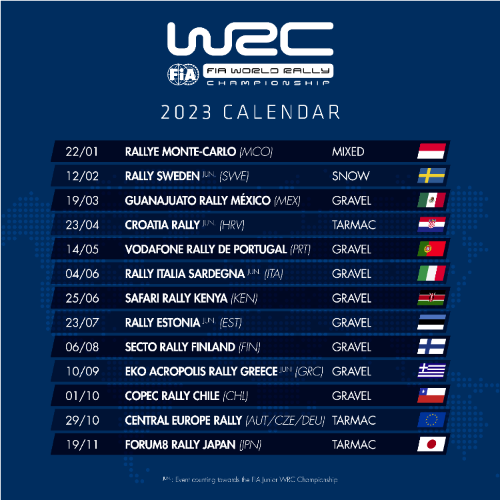 Pressemelding fra FIA
FIA World Rally Championship calendar for 2023 gets green light
FIA World Motor Sport Council approves 13-round WRC schedule, with five rallies selected for FIA Junior WRC Championship
Events on asphalt, gravel and snow to challenge drivers and their teams
The FIA World Rally Championship calendar will widen in geographical spread in 2023 after the FIA World Motor Sport Council approved next season's schedule through an electronic vote of its members this week.
Featuring 13 rounds from January and November, the calendar includes one new event, plus a return to two traditional heartlands in North and South America.
Of the 13 rounds, five will count for the FIA Junior WRC Championship, which provides young, up-and-coming talents the opportunity to showcase their ability and grow their experience on a global stage in identical Rally3-specification Ford Fiestas.
As well as approving next season's WRC roster, the World Motor Sport Council members gave the green light to the FIA European Rally Championship calendar for 2023. Having approved the FIA African Rally Championship and FIA Middle East Rally Championship schedules at its October meeting, the Council will consider the Asia-Pacific, CODASUR, NACAM and R-GT calendars, presented by the FIA Rally Commission, when it convenes in December.
FIA WRC season calendar all set for 2023
Among the many highlights in store during the second season of the FIA World Rally Championship's hybrid-based Rally1 era are the return of events in North America (México) and South America (Chile), plus a unique cross-border rally featuring stages in Germany, Austria and Czech Republic.
In keeping with tradition, the 2023 WRC season is scheduled to begin on Rallye Monte-Carlo (January 19-22) with the 70th Rally Sweden's snow and ice-coated stages providing the next challenge from February 9-12.
The WRC returns to North America and Guanajuato Rally México for the first time since 2020, with the opening gravel event of the year, from March 16-19. It's then back to Europe and Croatia Rally's sealed-surface stages from April 20-23 with Vodafone Rally de Portugal marking the first of seven consecutive gravel rounds from May 11-14. Remaining in southern Europe for the 20th Rally Italia Sardegna (June 1-4), the WRC then heads to Africa for Safari Rally Kenya (June 29-July 2).
Rally Estonia (July 20-23) hosts the first of two back-to-back high-speed gravel rounds followed by Rally Finland from August 3-6. The gravel-based EKO Acropolis Rally Greece (September 7-10) follows ahead of Copec Rally Chile, signalling the WRC's South American comeback on gravel stages from September 28-October 1.
The all-new Central Europe Rally (October 26-29) comprises Tarmac tests in Austria, Czech Republic and Germany and is the first WRC event to feature competitive action in three countries.
FORUM8 Rally Japan, which uses asphalt-only stages, hosts the season-closing round from November 16-19, having returned to the WRC calendar earlier this month.
Five FIA Junior WRC Championship rounds fixed
With events on asphalt, gravel and snow, FIA Junior WRC Championship drivers will get the opportunity to learn and progress on a variety of surfaces. Competing in identical, Pirelli-equipped Ford Fiesta Rally3s prepared and maintained by M-Sport Poland, the series provides the ultimate arrive-and-drive experience for drivers aiming for rallying's highest echelon. The 2023 FIA Junior WRC Championship schedule consists of Rally Sweden, Croatia Rally, Rally Italia Sardegna, Rally Estonia and EKO Acropolis Rally Greece.
FIA President Mohammed Ben Sulayem said: "The fact that the 2023 FIA World Rally Championship will visit five distinct regions is a positive step towards engaging more people in motor sport, either as competitors,  volunteers, officials or fans. By returning to North and South America in addition to rallies in Africa, Asia and Europe, the WRC is embracing a more global calendar, which has always been the intention of the FIA. With established and emerging events on asphalt, gravel and snow, the 2023 calendar offers diversity, while the cross-border Central Europe Rally is an excellent example of several ASNs working in unison to deliver a world-class event. I am looking forward to the WRC's second season of the hybrid-based Rally1 era."
FIA Rally Director Andrew Wheatley said: "It's fundamental for a world championship to reflect the global nature of motor sport and I wish to extend our appreciation to the ASNs, organisers and WRC Promoter who are working hard to deliver events that raise the level and appeal of the WRC each year. COVID-19 has obviously caused us to be absent from some regions since 2020 but we're moving in the right direction with four long-haul events in 2023. We are coming closer to the vision of having the WRC support our global regional rally series and at the same time, highlighting the importance of the many events that have formed the backbone to the WRC for the first 50 years."
WRC Promoter Managing Director Jona Siebel said: "We are incredibly happy to be returning to North and South America. We have maintained a dialogue with the Mexican and Chilean organisers throughout the COVID pandemic and we are confident this is now the right time for our return. With an extended calendar and exciting new stops added to the mix, the WRC is well placed to reach more fans than ever before."